ads
Oru Nalla Naal Paathu Solren Movie Audience Reviews
Vanaja (Author)
Published Date :

Feb 02, 2018 12:45 IST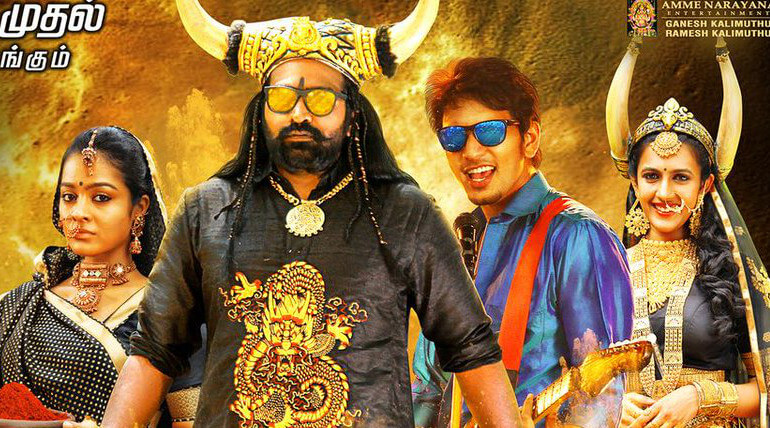 Vijay Sethupathi and Gautham Karthik starrer 'Oru Nalla Naal Paathu Solren' movie had received great reviews from Dubai premiere and is receiving warm welcome in theatre across the state.
Debutante Arumugakumar had directed the film where Vijay Sethupathi essaying eight different getups as a tribal gang leader. The trailer and teaser have already impressed the audience.
The movie has Gayathire and Niharika Konidela, a niece of Tollywood megastar Chiranjeevi as a female lead. Viji Chandrasekhar, Ramesh Thilak, Daniel Annie Pope are making supporting roles. The movie has Justin Prabhakaran (Oru Naal Koothu fame) music, Sree Saravanan's visuals and editor R Govindaraj cuts.
The story is said to be laughing riot that moves on both forest and city. Gautham Karthik is seen as a college student and Sethupathi as tribal thieves who also has humanity. 7C Entertainment Pvt Ltd and Amma Narayana Productions have jointly produced this venture.
The audience lauds 'Makkal Selvan' role in this flick, same time some of them say he is delivering same mannerisms. His fans and audience are seem to be expecting lot more from this talented performer. Gautham and other actors are receiving decent reviews from the audience.
Makkal Selvan Vijay Sethupathi delivered Another Superhit it seems😎#OruNallaNalPaathuSolren receives Highly positive reviews from DUBAI❤😍

— Haamid Yuvan (@viewhaamid) February 1, 2018
#OruNallaNaalPaathuSolren #onnps 3.75/5 Credit to @Aaru7Cs for trusting a unique screenplay n presentating it very simply with loads of funny situations n comedy. Solid debut. #VijaySethupathi n his one liners 👌👌😁😁👏👍. Gautham Karthik's best till date👍. Vjs vera level 👌✌

— Kamal Thirumalai (@ThirumalaiKamal) February 1, 2018
#OruNallaNaalPaathuSolren #ONNPS - #VijaySethupathi Screen presence with different Cemedy Concept, sets & other stars performance, lengthy 2nd half, only few Childish Scenes & Comedies boring... Watchable...

Rating : 2.75/5

— anand (@anandviswajit) February 2, 2018
#ONNPS #OruNallaNaalPaathuSolren #VijaySethupathi's antics, 4 minute dialogue and Dany's one liners are gonna trend big time. Solid response from crowd. Dany's best after Idharkuthaane. Vjs is a master in selecting fresh scripts. Proved again👌👍👏. Semma.

— Sunil Puli (@SunilPuli10) February 1, 2018
#Onnps #OruNallaNaalPathuSolren 3.5/5 A total fun ride with the entire Gang. #VijaySethupathi as Yeman brings in fresh Antics n stunning one liners👍👏👌😁. Support cast Dany is awesome 👌👍😀😀. Laughed out Loud👍👌. @Gautham_Karthik n vjs combo works big👍👌

— Chaithu_mviemaniac (@Chaithumaniac) February 2, 2018
#OruNallaNaalPaathuSolren #Onnps Yippy. One of the first to watch it in Dubai premiere. 3.75/5 Absolutely Fun filled Film not to be missed. #VijaySethupathi n @Aaru7Cs have pulled off a completely off beat screenplay brilliantly. Full on Entertainer. Gautham n Dany 👍. Vjs 👌👍👏

— Kamal Thirumalai (@ThirumalaiKamal) February 1, 2018
#ONNPS : 1st Half done #onnps purely laughing riot.. 😂😂 @i_vijaysethu as usual Vera lvl performance. @Gautham_Karthik @Aaru7Cs superb, you will go heights. Good Songs & bgm 😊🤙 Waiting fr 2nd Half !

— Joseph Vijay (@vijayrambomaxim) February 2, 2018
#ONNPS Interval - Vijay Sethupathi as always with his magnanimous screen presence and natural acting keeps the viewers interested. Good support by @Gautham_Karthik too. Danny is the surprise package. His one liners evoke good laughter. Action shifts to 'Yamasingapuram' now.

— Ajay V (@kollyempire) February 2, 2018
#ONNPS : 2nd half over.. Lengthy 2nd half.. little bit boring compare withn 1st half.. #VijaySethupathi & @Gautham_Karthik Performance Sema..😍🤘 @justin_tunes Bgm & Songs Good 👌👌 @Aaru7Cs New kinda Attempt Good Bro 😎👏👏 Watchable Comedy Entertainment 😂😂👌💪!

— Joseph Vijay (@vijayrambomaxim) February 2, 2018
#ONNPS review - Torture in the name of comedy. Diff genre and backdrop but pathetic story spoils the show #VijaySethupathi settles with his as usual mannerism @IamNiharikaK is good, others nothing much to perform @justin_tunes is brilliant @Gautham_Karthik @SGayathrie @Aaru7Cs

— sathiyasodhanai (@sathiyasodhanai) February 2, 2018
Almost different getup in every scene #VJS👏. Grand sets and Characters pave way for a excellent comedy ride 🤐. But badly misfired 😭. #Karthik and #Daniel saved it to a large extent😍. #Niharika 👌. Omelette comedy #Balaji the only saviour 👏. #ONNPS - ethuku 🤦‍♂️🤦‍♂️

— Kannan கோ (@Kannan5689) February 2, 2018
Oru Nalla Naal Paathu Solren Movie Audience Reviews
Related News