ads
Kamal Haasan Speech At Harvard University About His Vision On Tamil Nadu
Vanaja (Author)
Published Date :

Feb 12, 2018 09:54 IST
Kamal Haasan was a keynote speaker at Harvard University in India conference 2018 yesterday. He delivered an important speech about his role and vision on Tamil Nadu's growth.
He announced the plan of adopting village in every district of the state. He plans to make the village role model as best villages in the world. He started his speech with "All is not well with Tamil Nadu" and explained his future vision about the development of the state.
To the question with alliance with Rajinikanth in politics, he replied if necessary I will take it. I hope Rajini's colour is not saffron, alliance with Rajinikanth us unlikely if his colour is saffron. He is my good friends but politics is different. There is no chance to make alliance with some other existing parties."
"I want to be different; I want to make the difference for my people," says the veteran actor. He also seeks support from the people to bring out the good changes. I also seeks something more valuable than money like intellect, ideas and imagination.
He launched the site maiam.com and invited volunteers to be part of his mission for to build sustainable model villages.
He reported Tamil Nadu stands in the 3rd place on revenue deficit. The state natural resources like water management is being neglected for decades and we would be sufficient with water if it is managed properly.
He quoted about Mahatma Gandhiji words "rebuilding of the nation can be achieved only by reconstructing self-reliant / self-sustained villages. Big announcement regarding the village adoption is awaited on Feb 21, 2018.
வணக்கம்! ஹார்வர்ட் பல்கலைக்கழகத்தில் ஆங்கிலத்தில் நான் ஆற்றிய உரையை, எம் மக்களுக்காக அதன் தமிழ் மொழிபெயர்ப்பை இணைத்துள்ளேன். தமிழர்களின் எதிர்காலம் குறித்த என் அக்கறையை உலகெங்கும் அறியச் செய்த ஹார்வர்ட் பல்கலைக்கழகத்துக்கு என் நன்றி! நாளை நமதே #Naalainamadhe #maiam #tamilpride pic.twitter.com/j9Mnf7b72k

— Kamal Haasan (@ikamalhaasan) February 11, 2018
Thank you Professor. Kash for moderating the meeting .I had the pleasure of interacting with some of the brightest minds in Boston . Your bright ideas for a new Thamizhnadu & your enthusiasm to be part of the impending change,assures me ,naaLai namade pic.twitter.com/1EcuymvKGM

— Kamal Haasan (@ikamalhaasan) February 12, 2018
Kamal Haasan At Harvard University Still1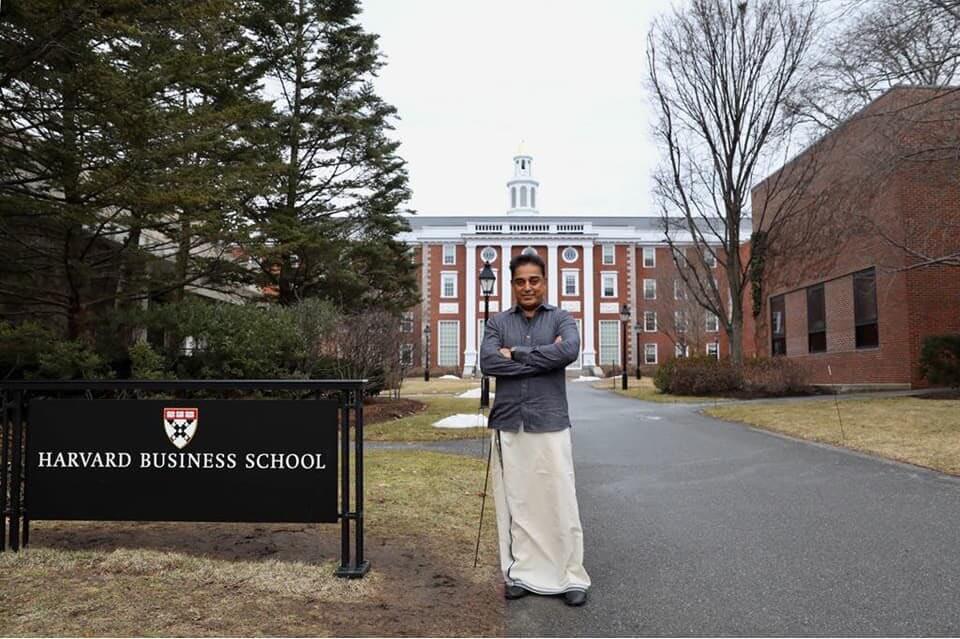 Kamal Haasan At Harvard University Still2
Kamal Haasan Speech At Harvard University About His Vision On Tamil Nadu
Related News