ads
Kamal Haasan Met Bloom Energy Founder KR Sridhar At US
Vanaja (Author)
Published Date :

Feb 08, 2018 17:45 IST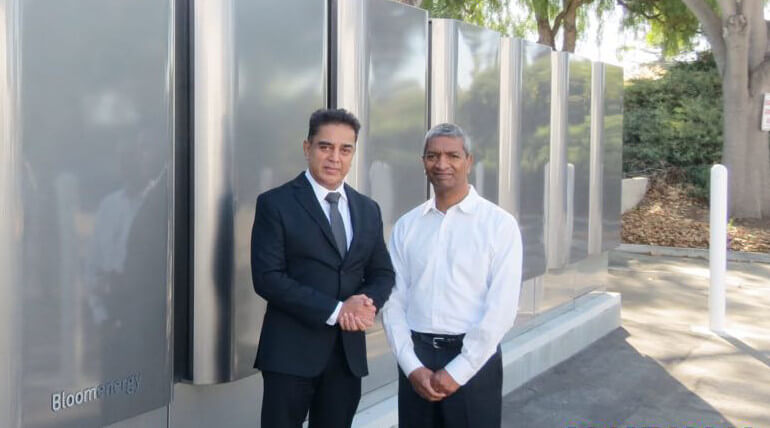 The veteran actor cum politician Kamal Haasan who always raises his voice against corruption and unfair issues in the state visits United Stated of America. As part of his US visit, he had meeting with Bloom Energy founder KR Sridhar.
He had decision about Bloom Box where power generated by biological sources which will produce clean, reliable and affordable electricity. He was happy to visit and learn the technology about this system.
He also requested the Bloom Energy to make Tamil Nadu as an example to show the world about the technology. He also added he can guess Tamil Nadu will be first customer for this project in near future.
His official quote includes "Visiting Bloom Energy and seeing bloom's vision gives me a vicarious pleasure of being part of this endeavour. I see a future where Tamil Nadu could be Bloom's champion customer. I would rather that Bloom and Dr Sridhar would kindly consider Tamil Nadu as their sleeping partner/giant that they can awaken for the world to see. It would make India and Tamil Nadu proud."
Dr Sridhar, former director of the Space Technologies Laboratory at the University of Arizona, later worked on oxygen and hydrogen to create power.
Kamal Haasan this visit blooms the state and praised by the Tamils everywhere. They thank Kamal Haasan for bringing the knowledge about this technology to the people of Tamil Nadu.
Kamal Haasan is looking forward to speak in India Conference at the Harvard University in Boston on Feb 10th.
Kamal Haasan Met Bloom Energy Founder KR Sridhar At US
Related News