ads
Theeran Adhigaaram Ondru Movie Reviews: Receiving Massive Responses
Vanaja (Author)
Published Date :

Nov 17, 2017 09:51 IST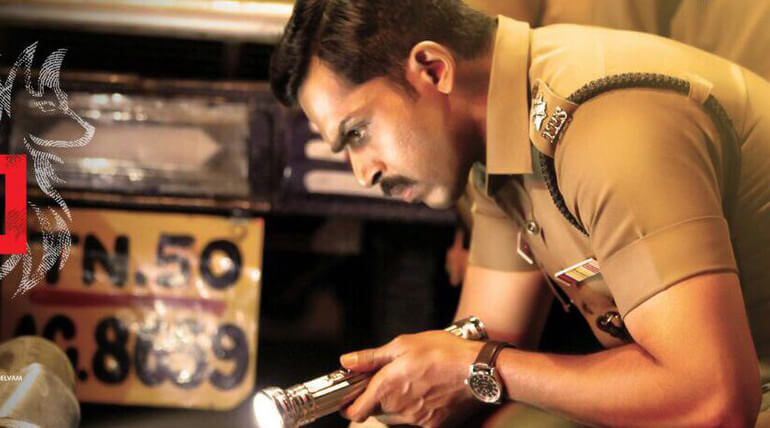 'Sathuranga Vettai' fame H Vinoth 2nd directorial venture Theeran Adhigaaram Ondru is receiving massive responses from audience and great reviews from critics. The realistic cop action thriller produced by Dream Warrior Pictures production house hits theatres today. It has been released in Tamil and Telugu (Khakee) in almost 1000+ screens.
It is lauded as a well packed and perfect execution by director. The team had already said this movie is not a regular cop thriller with mass dialogues and cop's solo action with heroism. The story is based on the true incidents that happened around 1995. It shows the policemen facing troubles in his career and Karthi says it is a tribute to our police department. Karthi has performed all stunts in the movie without body doubles.
This movie is said to be another milestone of Karthi's career. The background score that was tuned by Ghibran sinks with the scenes says the audience. Rakul Preet Singh plays as a rural girl. The movie also has Abhimanyu Singh, Bose Venkat, Mathew Varghese, Kishore Kadam, Scarlett Mellish Wilson and others.
Here are some critics' reviews after the special show. It gets rating above 3 from every critics and media. Live audience responses will also be updated here.
#TheeranAdhigaaramOndru - Loved the fact that the film shows the struggles that cops face and not portrays them as macho superheros. True unsung heroes worthy of all respect. #Vinoth @Karthi_Offl #Theeran

— Kaushik LM (@LMKMovieManiac) November 16, 2017
#TheeranAdhigaaramOndru - Well packed thriller which is perfectly executed by #Vinoth . Tight screenplay & suitable BGM. @Karthi_Offl officially back in town. Surly will be proud of TN police. Must watch in Theater & one of the notable film in 2017. @prabhu_sr @DreamWarriorpic

— Barath Venugopal (@barathmech93) November 16, 2017
#TheeranAdhigaaramOndru: Glorification of cops achieved through ruthless, in-your-face reality. Without any punch dialogues. Without any hero elevation sequences. #Vinoth is surely a director to watch out for!

— Surendhar MK (@SurendharMK) November 16, 2017
#TheeranAdhigaaramOndru 👌👌Worthy addition to the list of superb Indian cop films. Terrific 2nd half hunt in Rajasthan. No compromise on the action, intensity & violence. Loved the reality-soaked ending! Bring on the sequel. @Karthi_Offl #Vinoth @prabhu_sr 👍👍

— Kaushik LM (@LMKMovieManiac) November 16, 2017
Congratulations @Karthi_Offl , @Rakulpreet & director #Vinoth #TheeranAdhigaaramOndru positive reports👍👍👍

— ashok kumar kema (@AshokKema) November 17, 2017
#TheeranAdhigaaramOndru - Dir #Vinoth worked well in the script & @Karthi_Offl lived as a character. Well made a true story based movie in recent times. Sub-Story (animation narrative) for negative role will be mojor plus. Hope team will come again with #AdhigaaramErandu

— Barath Venugopal (@barathmech93) November 16, 2017
"@LMKMovieManiac: #TheeranAdhigaaramOndru,my rating 3.75/5.Dont miss itDeserves to WIN 👍 #Theeran @Karthi_Offl #Vinoth @prabhu_sr" thankuu🙏

— Rakul Preet (@Rakulpreet) November 17, 2017
Theeran Adhigaaram Ondru Movie Reviews: Receiving Massive Responses
&nbsp
Tags :&nbsp
Theeran Adhigaaram Ondru Movie Reviews
,
Theeran Adhigaaram Ondru Movie Responses
,
Theeran Adhigaaram Ondru responses
,
Theeran Adhigaaram Ondru live audience response
,
Karthi
,
director Vinoth
,
Dheeran Adhigaram ondru movie responses
,
Dheeran Adhigaram ondru reviews
,
Dheeran Adhigaram ondru movie
,
H. Vinoth
,
H. Vinoth
,
dream warrior pictures
,
Theeran audience responses
,
Theeran movie reviews
,
SR Prabhu
,
rakul preet singh
,
Khakee movie reviews
,
Khakee reviews
,
Khakee responses
,
Khakee audience responses
,
khakee live audience responses
,
khakee critics reviews
,
Khakee movie
Related News