ads
Producer Michael Rayappan Reveals Shocking Truth About STR During AAA Shooting
Sangheetha Palaniappan (Author)
Published Date :

Dec 01, 2017 23:39 IST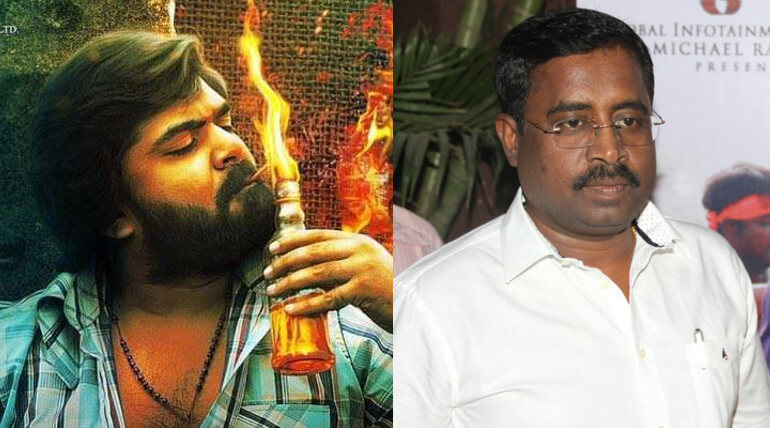 Anbhanavan Asaradhavan Adangathavan Producer Michael Rayappan of Global Infotainment comes with the series of complaint about STR and reveals Rs 20 crore loss due to him. The production house had produced films like films like Nadodigal, Sindhu Samaveli, Goripalayam, Thenmerku Paruvakaatru, Eetti, Miruthan, AAA and others.
AAA directed by Adhik Ravichandran that faced disaster at box-office. Producer blames the lead actor for the loss of the film. He claimed Simbu is the reason behind this huge loss. He did not appear for the shoot at proper time and he had chosen locations, artists, and changing artists, and finally he rejected to act in 3rd role.
"I have produced almost 12 films which was moderate at box-office and some are failure. Never in my dream thought AAA movie with Simbu would push me to this bad condition. He had sent director to me after hearing the story. He knew the film starts in Dindugul and travels to Dubai and ends in Kasi.
We approached Trisha and Lakshmi Menon to act with Simbu, Trisha gave back the advance and Lakshmi menon rejected the offer. No heroines in the industry is ready to star with Simbu. Finally Shriya Saran accepted."
Producers stated "Simbu often changed the locations. These are the conditions made by the actor during shoot - the climate would be too hot in Madurai and there are no star hotels in Dindugal and would not shoot in public place, he will cancel the shoot if crowded.
He wanted to change Shriya saying she is not good after completing the 1st schedule and a song left. He had decided the call sheet and timings but he never appeared as per timings and call sheet he made. Simbu cancelled Dubai location and wanted to shift to London. He delayed 2 months and finally agreed to shoot in Dubai."
The producer claimed several allegations with the actor. He pointed out the days Simbu worked in the film and days planned for shoot.
"After all these hurdles and issues, we finally released AAA as a half-baked film. Due to many factors the film gave a big loss which everyone knows. Tamannaah shot only for 13 days, out of her 30 days call sheet, while Shriya shot only for seven days out of her 15 days call sheet. Everything got wasted.
No. of days shooting was planned - 76No. of days shooting happened - 47 + 1No. of days Simbu came - 38 (13 days for song and fight, 25 days for talkie portions)."
Producer finally said "No other producer should face these issues that I faced with Simbu."
Producer Michael Rayappan Reveals Shocking Truth About STR. Photo Credit Global Infotainment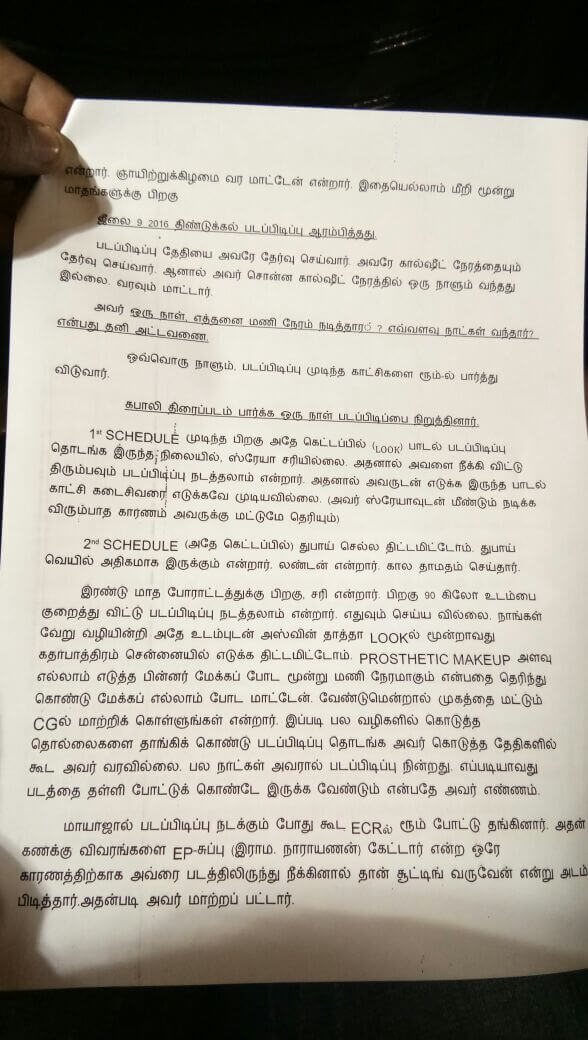 Producer Michael Rayappan Reveals Shocking Truth About STR. Photo Credit Global Infotainment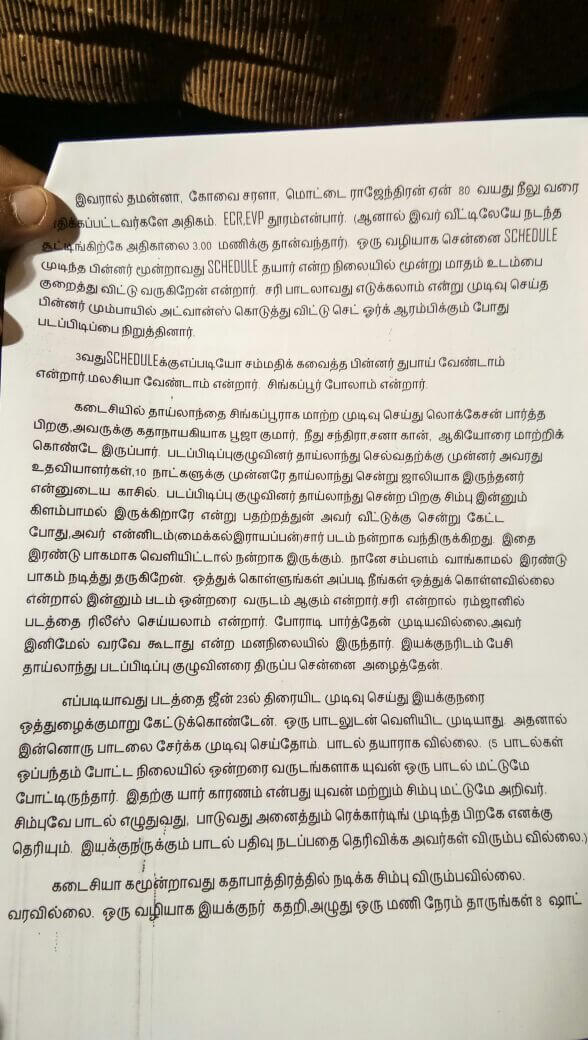 Producer Michael Rayappan Reveals Shocking Truth About STR. Photo Credit Global Infotainment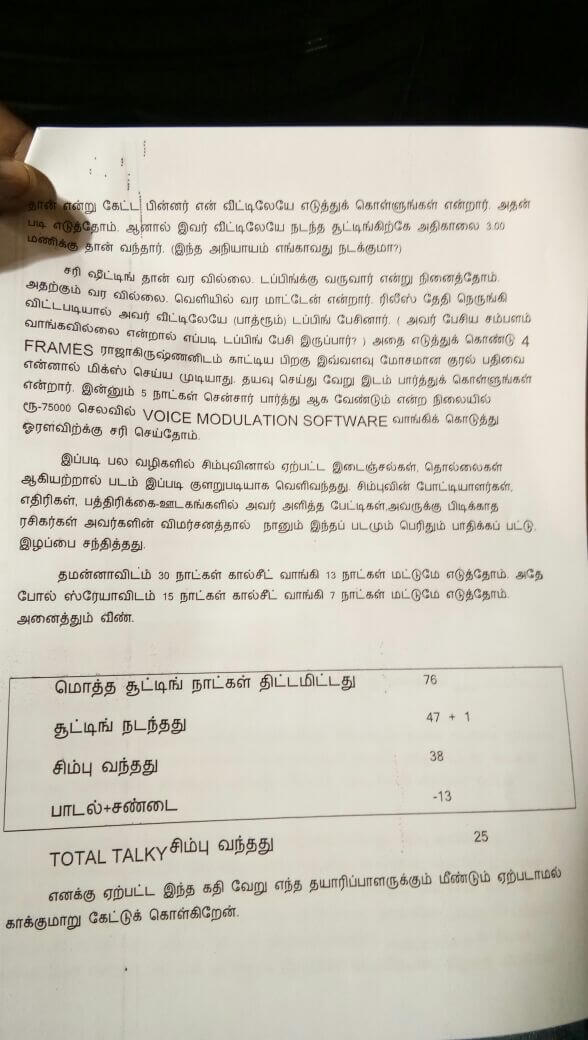 Producer Michael Rayappan Reveals Shocking Truth About STR.Photo Credit Global Infotainment
Producer Michael Rayappan Reveals Shocking Truth About STR During AAA Shooting
&nbsp
Tags :&nbsp
Producer Micheal Rayappan
,
AA producer statement against Simbu
,
STR During AAA Shooting
,
AAA shooting
,
Anbhanavan Asaradhavan Adangathavan
,
AAA producer
,
Adhik Ravichandran
,
aaa
,
global infotainment
,
Producer Michael Rayappan statement
,
AAA producer statement
Related News