ads
Pandiraj Produced Marina Puratchi Movie Trailer Soon
Sangheetha Palaniappan (Author)
Published Date :

Jan 09, 2018 06:59 IST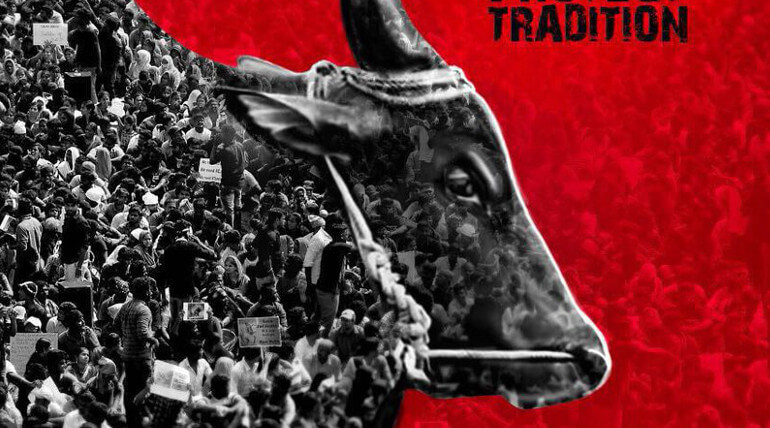 Pandiraj producing Marina Puratchi movie trailer is coming soon. Sivakarthikeyan, Soori and Sathish have released the first look poster of the film. The film would showcase the massive Marina protest that was held successfully by youngsters and college students in Tamil Nadu to save the tradition. It is marked as the great history of Tamils and a revolution to protect tradition.
The movie is written and directed by MS Raju and produced by Pandiraj under Pasanga Productions. Velraj is handling the cinematography. The trailer of the film is coming soon.
Sivakarthikeyan shared "Pasanga productions @pandiraj_dir sir presents #MarinaPuratchi ..Reliving the historic moment..Best Wishes to the full team..Trailer soon"
Soori tweeted "தமிழன்னா யாருன்னு இந்த உலகம் தெரிஞ்சுக்கிட்ட நாள் இன்னைக்கு!10 கோடி தமிழர்களோட போராட்டத்தைப் படமா உருவாக்கியிருக்காங்க @pandiraj_dir அண்ணனோட @pasangaprodns .வாழ்த்துக்கள் இயக்குனர் M.S.ராஜ் & dop @VelrajR sir 👍#MarinaPuratchiFirstLook"
Sathish posted "பண்பாட்டைக் காப்பாற்ற தமிழன் போர் தொடங்கிய நாள் இன்று !கலாச்சாரத்தைக் காக்க 10 கோடி தமிழர்கள் கண்ணியமுடன் நடத்திய போராட்டம் விரைவில் ...உங்கள் பார்வைக்கு ! முதல் பார்வை இன்று முதல்..Engal vaazhkkaiyai maatriyadhum #Marina dhan. Best wishes @pandiraj_dir sir & @pasangaprodns"
The historic protest took place by the youngsters and college students at Marina beach as pro-jallikattu protest that was started on Jan 8th 2017 and ended on Jan 23rd 2017. The 16 days protest had proved the braveness and unity of Tamils to the entire world. Out native jallikattu sport was got back that was banned by Supreme Court.
Several celebrities had attended the protest and support the youngster. The public extended full support to the protestors by helping them with all the basic needs like water, food and toilet facilities at the spot. It is not just a protest for jallikattu, Tamils boycotted foreign products like Pepsi, Coke and other food items and also voice rose of supporting farmers.
Pandiraj Produced Marina Puratchi Movie First Look Poster1
Pandiraj Produced Marina Puratchi Movie First Look Poster2
Pandiraj Produced Marina Puratchi Movie Trailer Soon
&nbsp
Tags :&nbsp
Pandiraj Produced Marina Puratchi Movie Trailer
,
Marina Puratchi Movie
,
Marina Puratchi trailer
,
Marina Puratchi Movie trailer
,
Marina Purachi Movie
,
Marina Purachi trailer
,
Marina Puratchi 2017
,
Marina Puratchi movie updates
,
Marina Puratchi movie latest updates
,
Marina Puratchi official trailer
,
Marina Puratchi Movie first look
,
Pandiraj Marina Puratchi Movie first look
Related News