ads
Chennai 2 Singapore Director Heartfelt Message To Tamil Rockers and Tamil Gun
Sundar Vadivel (Author)
Published Date :

Dec 20, 2017 09:12 IST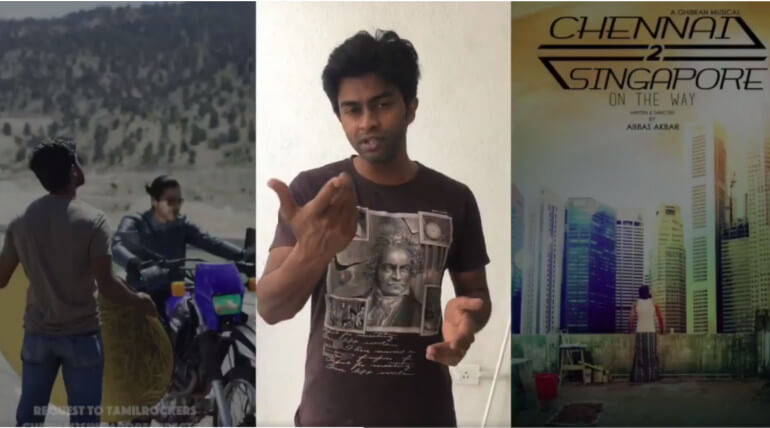 Chennai 2 Singapore musician Ghibran had uploaded the video of director Abbas Akbar heartfelt message to piracy websites. The director requested Tamil Rockers, Tamil Gun and other pirated websites not to upload the movie as it has the so much hard work of the team.
Abbas Akbar spoke "I am speaking to all piracy websites directly. We have started Chennai 2 Singapore 6 years before. Our blood, soul and life are in this movie which was created in lot of dedication and sincere efforts for past 6 years. The movie total budget cost Rs. 8 crore including marketing, shooting and post production. We can not earn this amount in just one week. We need at least one month time as word of mouth about the movie should be spread.
The pain and sweats are all now at your side. This video is not enough to describe our hard work and pain we went on. We should not do that the fact is that we had decided to undergo pains to create this movie. SPI Cinemas believed on this content and bought it when no other distributors came forward. Now the shows are increasing slowly by word of mouth. There is no reason this movie to be failure you can see it also. I personally request you as a friend please do not post this movie online for just 30 days for our sake. You can do it on 31st day."
A heartfelt message to #Tamilrockers and #TamilGun from #Chennai2Singapore director @AbbasAkbar and me

Please share and convey the message pic.twitter.com/7NoSKoGmEF

— Ghibran (@GhibranOfficial) December 20, 2017
Chennai 2 Singapore Director Heartfelt Message To Tamil Rockers and Tamil Gun
Related News