ads
Vignesh Shivan Requests Producers To Stop Encouraging Maniacs
Vanaja (Author)
Published Date :

Feb 02, 2018 18:20 IST
Naanum Rowdy Thaan director Vignesh Shivan, who is happy with his recent release Thaana Serndha Koottam featuring Suriya as lead, is unable to digest unwanted critics to his movie. He said all films are created with hard works and they are for entertaining the audience.
Recently, he reacted to a movie trackers' tweet that stated "With 'No Hits' for the trade in Jan, Tamil cinema would be looking at a much much better Feb. Hop the hit meter is kick started".
Vignesh Shivan replied to this tweet that such negative people are curse to film industry. They are discouraging us with such senseless tweets. They come to office and beg money and doing things like this. The director's this tweet had created controversies and he later deleted it.
He requested producers to stop encouraging such people at least from now. "Else this is what they wil do !! They make a living out of us! Our blood n sweat !! & then they do this also end of the day! Hard times !," Vignesh Shivan tweeted.
He also added "A film's number game is only a producer's thing! Audience r here to enjoy,It's all jus entertainment! Gone r the days whn we used to enjoy every film! Every1 has become critical abt evrything! not needed It a beautiful life &let's jus try to be positive".
A film's number game is only a producer's thing! Audience r here to enjoy,It's all jus entertainment!

Gone r the days whn we used to enjoy every film! Every1 has become critical abt evrything! not needed😇
It a beautiful life &let's jus try to be positive😍#IgnoreNegativity

— Vignesh ShivN (@VigneshShivN) February 1, 2018
Not movie maniac!! 👌

Jus maniac !!! 😃

Dear producers !! Please stop encouraging such people atleast from now on !

Else this is what they wil do !!

They make a living out of us! Our blood n sweat !!
& then they do this also end of the day! Hard times !@kegvraja https://t.co/PJ2oDcQ3TT

— Vignesh ShivN (@VigneshShivN) February 2, 2018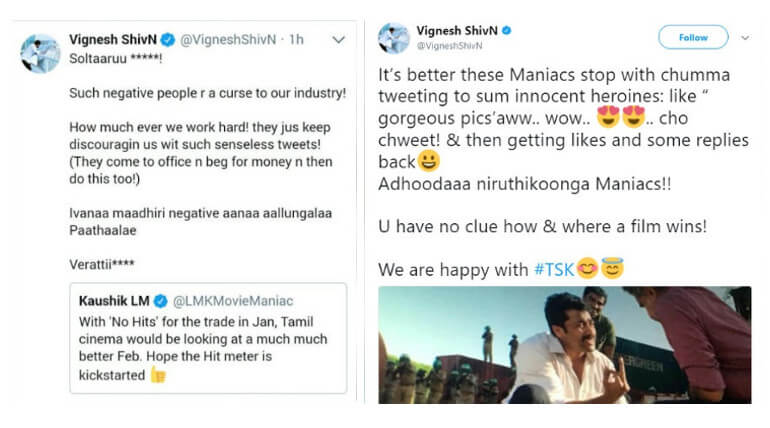 Vignesh Shivan deleted tweets
Vignesh Shivan Requests Producers To Stop Encouraging Maniacs
Related News