ads
Vishnu Vishal And Vikranth Opt Out From Chennai Rhinos This Year
Vanaja (Author)
Published Date :

Dec 22, 2017 11:59 IST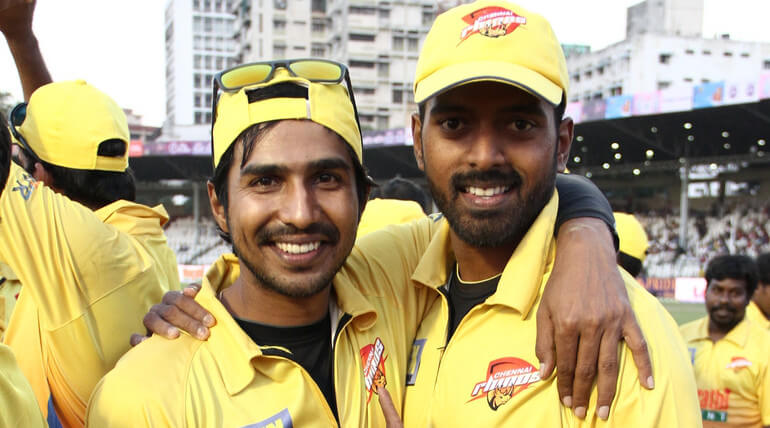 Celebrity Cricket League (CCL -T10) matches will be held on 24th and 25th Decemebr at Rajiv Gandhi International Stadium, Uppal, Hyderabad. Chennai Rhinos Team is owned by K Ganga Prasad, Managed by Ramesh Srinivasan and coach is Raju Padmanabhan.
Vikranth was a Captain and Vishnu is the one of the team members. They both announced today as they are opting out of the team. Vishal, Jiiva, Shanthnu, Prithivi, Arya, Shaam, Bharath, Jithan Ramesh, Bose Venkat, Ramana, Sanjay, Rsiva and Nithin Sathya are other team members. The team had the good track records and had won in 2011 and 2012.
Vishnu Vishal announced "I am opting out of #ChennaiRhinos this year @ccl ...had to choose self respect over emotions..i apologise to #ChennaiRhinos fans n cricket lovers..best wishes to my team..big hug to my friend @vikranth_offl for standing by me n CRICKET :)"
Vikranth shared "This year I am not a part of CCL and I am not playing for Chennai Rhinos. In life self respect is more important sometimes. My sincere apologies to all the chennai rhinos and ccl fans. Wishes to my team Its Vishnu Vishal's and my mutual decision. Thanks for always standing by me Vishnu."
Vishnu Vishal And Vikranth Opt Out From Chennai Rhinos This Year
Related News