ads
Velaikkaran Movie Live Audience Responses
Sundar Vadivel (Author)
Published Date :

Dec 22, 2017 09:27 IST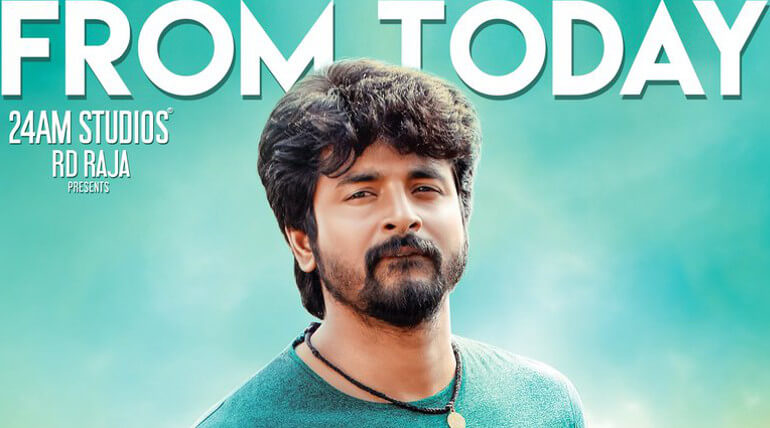 The much awaited Sivakarthikeyan and Nayanthara starring Velaikkaran had hit theatres today worldwide. Directed by Mohanraja and produced by 24AM Studios, the movie gets the grand release across the state. The battle between Fahadh Faasil and Sivakarthikeyan starts from today.
Sneha, Prakashraj, Vijay Vasanth, RJ Balaji, Robo Shankar, Rohini, Sathish and others are part of this entertainer. Anirudh tuned all songs are massive hits that attracted major audience to watch the movie. Celebrities and audience are wishing the team a great success.
The movie has lots of buzz for its content, casts and screenplay. The promo urged the audience curiosity to sneak peek and pulls the audience to the theatres. It is also receiving good reports from critics. We will be updating the live audience reactions here. Stay connected.
Here are some critics' comments for the film.
#Velaikkaran First half- Dialogues at its best. Excellent research done on Marketing by @jayam_mohanraja Lots... https://t.co/DYhu8MPBM6

— Sathish Kumar M (@sathishmsk) December 22, 2017
As much as you feel #Velaikkaran gets into message-heavy mode, it works due to the relatability factor and how it chooses to address the issue - in a commendable commercial fashion - it takes up. @Siva_Kartikeyan graduates to next level in performance. 👏👌

— Haricharan Pudipeddi (@pudiharicharan) December 22, 2017
#Velaikkaran [3.5/5]: An excellent movie.. That exposes how FMCG companies deceive ppl thru Marketing and how consumers are forced to buy unsafe products.. What can Velaikkaran/workers Do about it..

— Ramesh Bala (@rameshlaus) December 22, 2017
After 7 remakes, looks like @jayam_mohanraja is aiming towards providing rich, original content 👍🏻#Velaikkaran

— Abishek S (@cinemapayyan) December 22, 2017
#FahadhFaasil is one of the finest actors we have! Look at the kind of graph he maintains and still brings in dozens of expressions to substantiate the emotion 🙌🏻#Velaikkaran

— Abishek S (@cinemapayyan) December 22, 2017
Trichy buoy pulling off the Madras slang like a boss 👌🏻#Velaikkaran

— Abishek S (@cinemapayyan) December 22, 2017
#Velaikkaran second half becomes quite preachy with lots and lots of message oriented dialogues. Absolutely no commercial compromises in the second half, as director has tried to convey lots of messages to the society with @Siva_Kartikeyan

— Sathish Kumar M (@sathishmsk) December 22, 2017
#Velaikkaran 1st half - Very good! Heavy content, thought provoking dialogs, quite a few goosebumps moments thanks to the relatability factor. Lots of sharp thoughts on marketing, sales, capitalism / rowdyism & stuff. @Siva_Kartikeyan rocking! @jayam_mohanraja ninnutaaru again

— Kaushik LM (@LMKMovieManiac) December 22, 2017
#Velaikkaran 1st Half: Excellent.. Brilliant screen play.. How MNCs deceive consumers thru Marketing.. Scenes r written very fresh.. @Siva_Kartikeyan rocks.. From kuthu dance to serious acting.. #FahadhFaasil is another #SidharthAbimanyu in the making..
Dir @jayam_mohanraja 👍

— Ramesh Bala (@rameshlaus) December 22, 2017
#Velaikkaran - Too Lengthy film, Concept and few dialogues only good. Ave film

Highlights : #FahadhFaasil
Drawbacks : Screenplay, Characters is very dull

Rating : 2.5/5

— anand (@anandviswajit) December 22, 2017
#Velaikkaran - Just two words. Vera Level. As good as Thani Oruvan. Need of the hour hard hitting movie from @jayam_mohanraja. Standing ovation as the end cards rolled on. Career Best of @Siva_Kartikeyan. Please don't waste any more time. Book your tickets now @24AMSTUDIOS

— Arun Raghavan (@Arun_Raghavn) December 22, 2017
Velaikkaran Movie Live Audience Responses
&nbsp
Tags :&nbsp
Velaikkaran Movie Live Audience Responses
,
velaikkaran audience reviews
,
velaikkaran audience response
,
velaikaran live audience review
,
velaikkaran reviews
,
velaikaran responses
,
velaikaran movie responses
,
velaikaran audience tweets
,
velaikkaran celebrities reviews
,
velaikkaran movie critics review
,
sivakarthikeyan velaikkaran responses
,
sivakarthikeyan velaikkaran reviews
Related News