ads
GV Prakash Sings Under Maestro Music For First Time
Vanaja (Author)
Published Date :

Nov 17, 2017 19:57 IST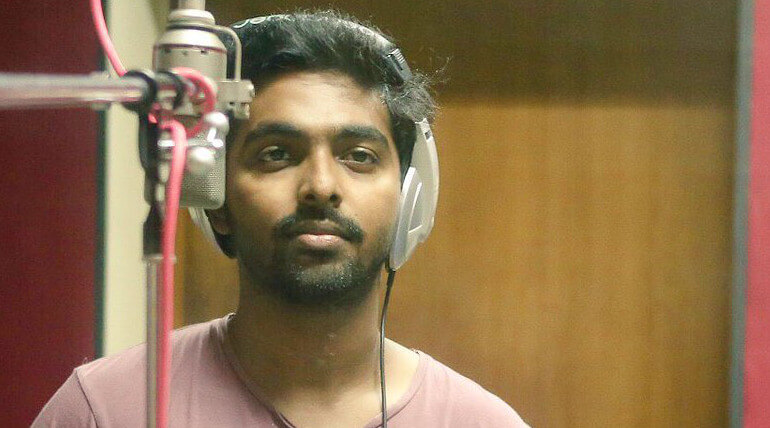 Established musician, singer and raising actor GV Prakash Kumar is excited to share that he had sung a song first time for 'Maestro' Ilayaraja music. He had crooned a duet song that starts with 'Unnaivittal Yarummilla / உன்னைவிட்டாயாருமில்ல' along with the singer Priyanka.
This song is for his upcoming film Naachiyaar that is being helmed by director Bala. The teaser of the film was released one day before and reached maximum audience. It was lauded by critics and fans. Some of them trolled for Jyo using swear words at the end. But it is the highlight of the teaser and that made the teaser to reached several audiences. The teaser has the touch of Bala's usual style. Jyothika stuns as the police officer while GV Prakash plays the role of rural guy.
"An important day in my life ... I have sung a song in maestro #Ilaiyaraaja sirs music ... a beautiful duet ... for #Naachiyaar called #உன்னைவிட்டாயாருமில்ல #Priyanka"உங்கையும் எங்கையும் சேர்த்து கைரேகை மாத்துது காத்து " @filmmakerBala," shared GV Prakash on his twitter handle.
GV Prakash Sings Under Maestro Music For First Time
&nbsp
Tags :&nbsp
GV Prakash Sings Under Maestro Music
,
GV Prakash song for Ilayarajaa
,
GV Prakash song for Naachiyaar
,
Naachiyaar songs
,
ilayarajaa
,
GVP new song
,
GV Prakash Kumar
,
bala
,
GV Prakash Unnaivittal Yarummilla song
,
Naachiyaar Unnaivittal Yarumilla song
,
Naachiyaar movie song
Related News