ads
Students Protest Against Bus Ticket Hike
Gokul Saravanan (Author)
Published Date :

Jan 22, 2018 11:35 IST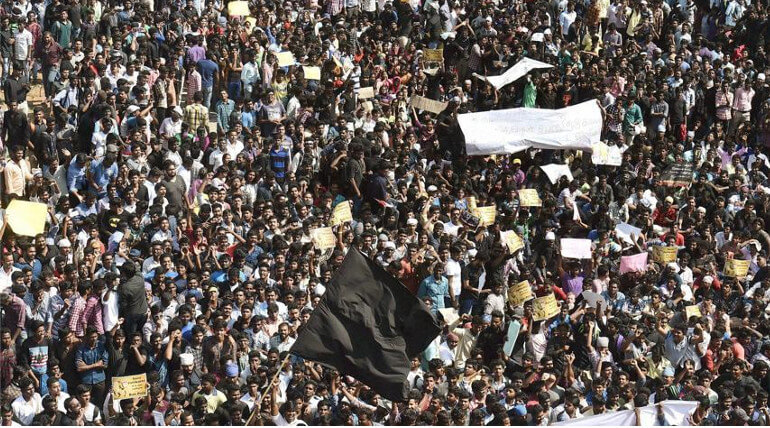 Huge protest had been started by the college students across Tamil Nadu again.
Behalf of the sudden hike in the government transport fare on Friday students from various districts of TamIl Nadu had started to protest against the Transport Ministry today. Last week, Tamil Nadu Transport Ministry had hiked the rates of bus tickets suddenly because the governments' weak financial status. The rates have been hiked up to 70% from the previous rate. The sudden decision has been taken by the government after 2011.
Seems Tamil Nadu Government was now hanged up to witness next protest of youngsters. College students from various districts of Tamil Nadu had walked out from the class and started to protest against the increased bus tickets.
Students from Thanjavur, Ariyalore ceased up some government buses at the bus stands with opposition slogan boards and students from Kundhavai Naachiyar women's college has protested their classes and involved in protest by blocking the roads.
Students from Tiruvannamalai government Arts colleges students also protested out from their classes and Students from Tirupur district had ceased up all the government buses at Tirupur New Bus stand and marked their opposition against the Bus ticket rate hike.
Students from places like Tiruvarur, Tirupur, Tiruvannamalai, Thanjavur, Ariyalur, Vilupuram had started their protest. Report says it is likely to spread all over Tamil Nadu. There were severe oppositions initially on the social media page immediately after the ticket fare hike announced. Now, the students have stepped on the road for protest.
Students Protest Against Bus Ticket Hike
&nbsp
Tags :&nbsp
Bus Ticket hike protest
,
Students protest in Tamil nadu
,
Students protesting against bus fare hike
,
Tamil Nadu students protest latest news
,
Tamil Nadu latest update
,
bus rate hike memes
,
bus ticket rate hike TN
,
bus fare hike tamil nadu
,
bus far hike tamil nadu
,
bus fare tamil nadu
,
Bus strike
,
Bus Strike In Tamil Nadu
,
current news of Tamil nadu
,
Bus tickets
,
thanjavur bus fare hike protest
Related News