ads
Ockhi Cyclone-Impact and Rescuing of Fishermen
Purushothaman Dhandapani (Author)
Published Date :

Dec 04, 2017 13:30 IST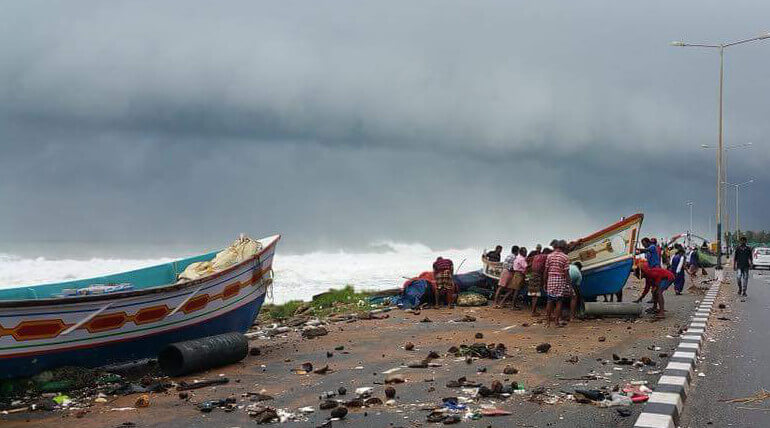 Ockhi Cyclone has affected maximum places of KanyaKumari and other southern districts of Tamil Nadu and Kerala. Its impact continues till now which affects the normal life of people over there even after 6 days of cyclone.
It is known that 2000 fishermen were stranded in sea due to this cyclone. To rescue those 2000 fisher men, Advocate Suriya Prakash appealed to Chennai high court requesting Central and State Government to take remedial steps. High Court requested the advocates to fill the requests as petition. Central Government is questioned why there is no any pre-notification about Ockhi cyclone by weather forecast center. DMK leader MK Stalin also claimed that there is no pre-notification by central state government about the cyclone.
Defence Minister Nirmala Sitharaman visits Trivandrum and saw the cyclone affected areas. She states that the rescue and search operation will be continued with the help of fishermen and helicopter till the last man is rescued. CM Edappadi Palaniswamy states that there will be a live meeting with corresponding officials about 12 pm regarding KanyaKumari impact and its rescue operations.
Four I.A.S officials were involved in rescuing the lost fishermen by visiting every effected fishing villages and taking census about the fisher men. 9 Fisher men belongs to Nagai and KanyaKumari who were lost at sea are rescued in Kochi.
Recently about 600 Tamil Nadu fisher men who went in 40 mechanized boats have boarded in Gujarat sea-shore. But still the fisher men who went in 20 mechanized boats are missing.
National Disaster Management Authority, now have announced that low pressure areas over Bay of Bengal and adjoining south Andaman sea cyclone is most likely to get depressed during 24 hours and into deep depression during subsequent 48 hours. This cyclone move towards west-northwestwards towards North Tamil Nadu-South Andhra Pradesh coast during next 3-4 days the sea condition over South-west Bay and adjoining central Bay of Bengal would be very rough from 5th December onwards so fishermen are advised not to venture into deep sea of north.
Haryana CM Manohar Lal Khattar sends 2 crores from CM's Fund to PM's Fund for rescue operations of Ockhi cyclone.
Ockhi Cyclone-Impact and Rescuing of Fishermen
&nbsp
Tags :&nbsp
effects of ockhi
,
fisher men
,
rescuing
,
Eddapadi palaniswamy live meet
,
4 I.A.S officials
,
Boarded mechanized boats
,
rescued fishermen
,
Ockhi Cyclone
,
Nirmala Sitharaman
,
Tamil Nadu Ockhi cyclone
,
Ockhi Cyclone damages
,
Ockhi Cyclone-Impact
,
Tamil Nadu missing fishermen
,
Ockhi missing fishermen
,
fishermen tamil nadu
Related News