ads
Coronavirus in Tamil Nadu: What Chennai City Commissioner A K Viswanathan Stated in his recent Press Meet
Vignesh Suppian (Author)
Published Date :

Mar 26, 2020 19:17 IST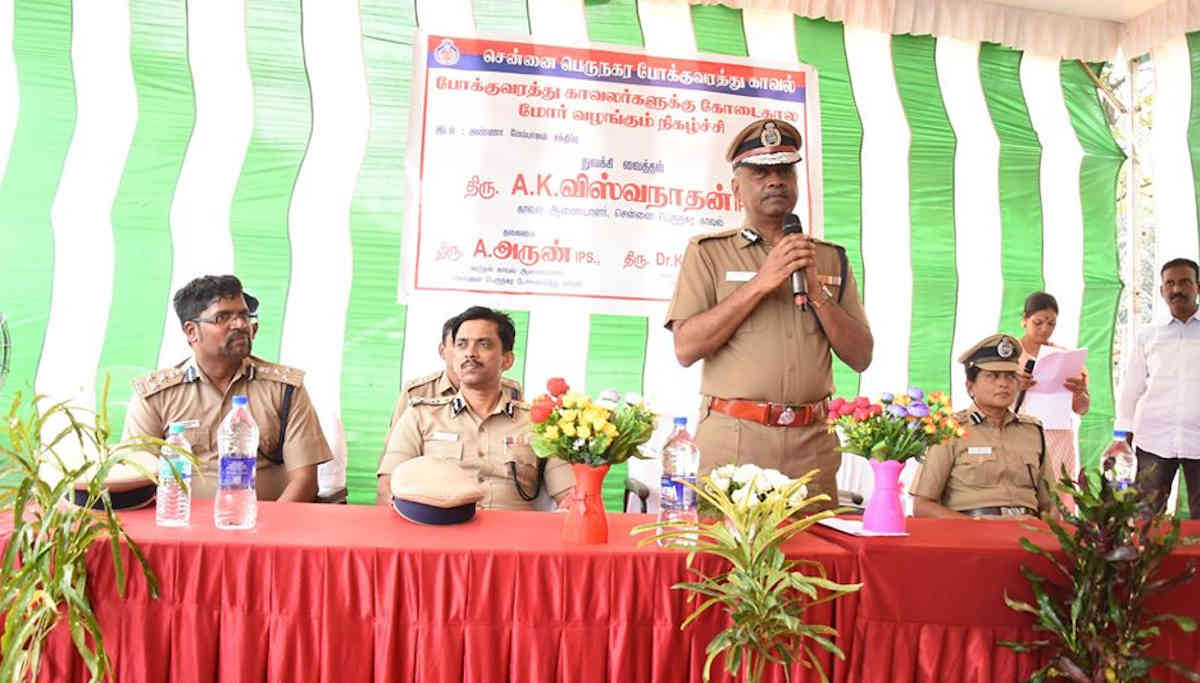 A. K. Viswanathan on Lockdown condition in Tamil Nadu:
It's not a holiday, but emergency says Chennai city police commissioner A K Viswanathan on the 21 days lockout by the government. He also said this at the press meet yesterday, March 25. He also confirmed that since yesterday was the first day, police warned and left the two-wheelers, which were unnecessarily plying on the road amidst the fear of coronavirus in Tamil Nadu. And from today, March 26, the bikes will be seized and cases booked under many sections against those roaming people without proper reason or identity.
After the 21 days lockdown started yesterday, streets along many of the places in India wore a deserted look. There were only a few people on the road, and especially in Tamil Nadu, and there was nearly 99% compliance of the announced locked down. Even the people gathering before the tea shops stopped from yesterday evening when they shut shop as per the orders of the chief minister. But still, some people do not take the locked down seriously, and police have to advise them in some places and beat in many areas. Regarding the police action for the next 20 days, the Chennai city police commissioner spoke to the press which includes
Most of the people in Tamil Nadu comply with the locked-down conditions, and there is no need to beat them with sticks.
There is one case registered in Kodambakkam and two in north Madras against people not complying with the locked down.
Only bike riders are roaming beyond their area and should stop doing it or face cases from March 26, 2020.
Infected persons should take quarantine seriously not to infect others and, if not, will have to face cases.
The locked-down spirit is to stay at home and should be followed in letter and spirit.
There are many shops closed which sold masks and sanitizers at higher rates and will take action on further complaints.
People like doctors, nurses, EB and other essential service persons should carry their IDs to get not disturbed by the police.
People should inform about infected people moving out of the quarantine facilities and also those infected persons who are not informing the authorities and the details those informing it will be kept confidential.
This lockdown is not a holiday season, and the elders should advise the younger generation not to affect them by roaming outside, or the police will take action.
Two people have been arrested in Poonamallee for spreading rumors of 20 people dead due to coronavirus and sent to jail
The cases that can be booked against those who are not complying with the lockdown include.
Section 188 would be imposed for disobedience to order duly promulgated by a public servant.
Sec. 269 would be imposed for the negligent act that could spread infection of disease that is dangerous to life.
Sec. 270 committing a malignant act that could spread infection of disease dangerous of life.
Sec. 271 would be imposed for disobeying quarantine rule.
Section 3 would be imposed on the Epidemic Diseases Act.
Section 51 (b) of the Disaster Management Act by which this locked down has been imposed in India.
Coronavirus in Tamil Nadu: What Chennai City Commissioner A K Viswanathan Stated in his recent Press Meet