ads
Rangoli Against the CAA: Politicians thrashed the Act of Police
Gokul Saravanan (Author)
Published Date :

Dec 30, 2019 10:54 IST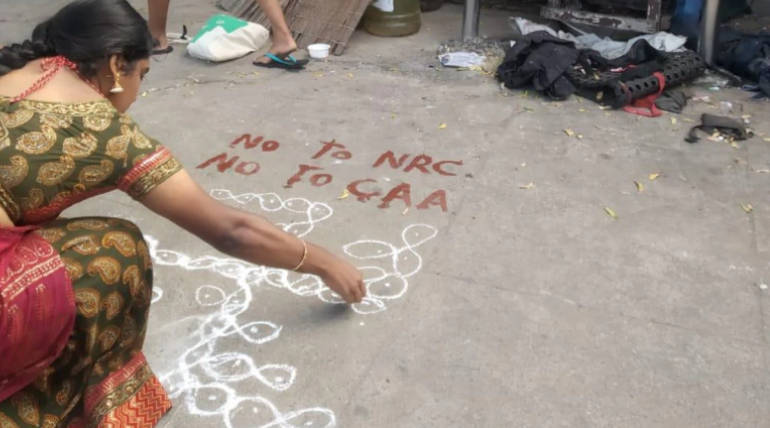 Chennai police department and the ruling AIADMk party is being thrashed by the social media and people of Tamil Nadu after they arrested eight people for drawing Rangoli against the Citizenship Amendment Act on Sunday.
The police say, around six women and a couple of lawyers who supported the rangoli gathering on December 29, 2019, were detained. They were arrested near the busy Besant Nagar bus stop and kept held at a community hall near the J5 Sasthri Nagar Police Station. Later an hour, the police released them all on the same day. The police stated that the gatherers haven't got any prior permission for their gathering, and that was the main reason for their detention.
The Rangolis were shared on social media and got the attention of the public soon as the gathering started at the place. Later, the video of detaining them was also shared and got the wrath of the public. From then, the police and the Tamil Nadu Government is being thrashed and criticized by the people through all possible means.
While the social media was all against this act, Minister Ma Foi K. Pandiarajan expressed his point of view on the arrest of 6 women protestors. He said the police arrested them not for their Rangoli but for their statement that stood against the government. He also marked the statement as anti-national. This statement raised the question of how can a government in a democratic country take such arresting actions against the critics that are more crucial for the thought of democracy among the people.
Politicians and social activists stood against the act of the Chennai police as soon as it hit the public.
DMK Chief MK Stalin thrashed the AIADMK government on the twitter page. Stalin stated that this clumsy Tn government had arrested the six women for experiencing their constitutional rights. He also demanded to drop the lawsuits that were filed on the six soon.
Naam Tamilar Party Chief-coordinator Seeman stated that the TN Government had arrested those who drew a Rangoli instead of arresting those who sexually assaulted women.
Many politicians opposed to the ruling AIDMK party have shown their opposition to this incident and demanded the dropout of the lawsuits against the six women.
Rangoli Against the CAA: Politicians thrashed the Act of Police