Rajinikanth do not want the Chief Minister post
Vignesh Suppian, March 6, 2020
2 min

read
34
Rajinikanth do not want the Chief Minister post: Rumors are gaining speed about the outcome of Rajni's meeting with Rajini Makkal Mandram district secretaries on March 5. Meeting the press after discussions with the district secretaries, Rajni said that he is disappointed about one aspect. On asked whether it was personal or political, he said he would inform about it at the appropriate time. To add fuel to the fire, Rajni's statement has made many wild guesses doing the rounds in the media now.
After decades, Rajni only confirmed to start a part on December 31, 2017. RMM or the Rajini Makkal Mandram, an extension of his fan clubs across Tamil Nadu, was formed only in 2018. And after more than two years after his announcement of starting party, only on March 4, he held discussions with the district secretaries of Rajini Makkal Mandram.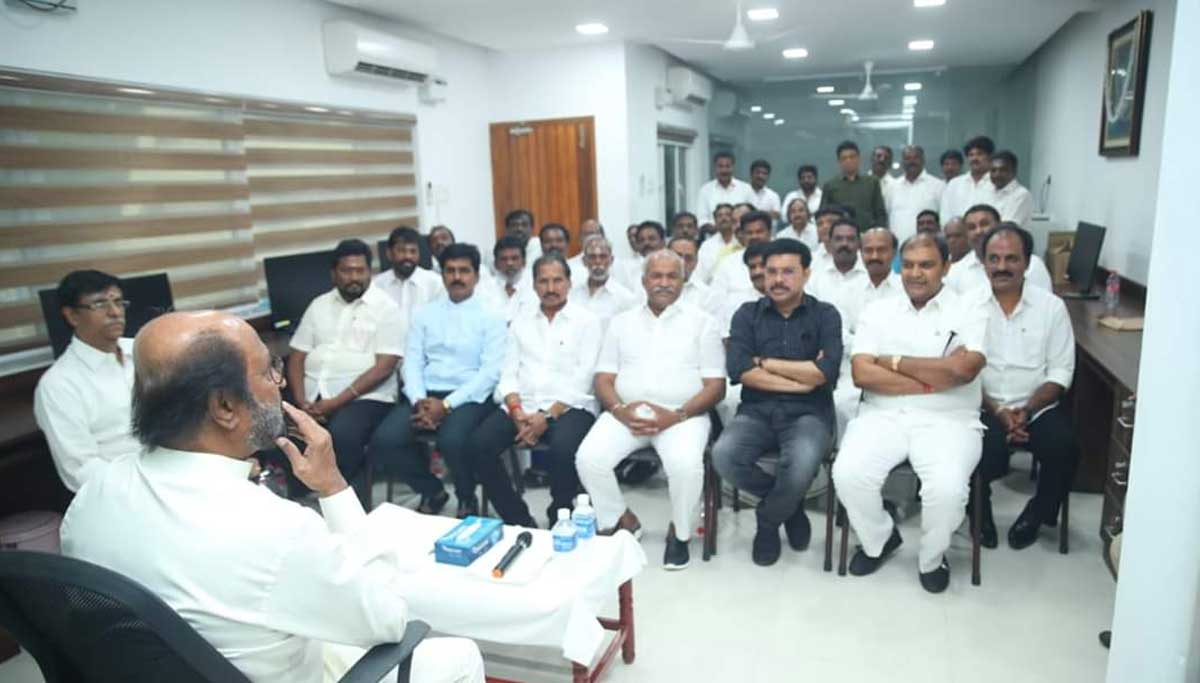 The meeting was conducted for only one hour in his Ragavendara Kalyana mandapam in Kodambakkam, Chennai. The district secretaries were strictly taken into confidence to not speak to the press of the outcome of the meeting. And Rajni only added to the tension of not mentioning his disappointment.
Meanwhile, the rumor mills are now working full-time on what the disappointment could be and also about his alliance with Kamal, BJP and other preparations for 2021 assembly elections which include
If a situation arises of becoming chief minister, he will not become CM, and only someone from the party will be CM
There is no truth of him being in alliance with BJP
Only his party will be heading for a partnership with other parties
Only a few of the district secretaries now will be chosen for posts when the party is formed
Eligible candidates who have the right skill sets will be chosen for the party posts
Related posts
Bodyguard Maranalloor Das died in Jaundice
A couple of week back Maranalloor Das (Age 47) was diagnosed Jaundice and was undergoing treatment in Thiruvananthapuram Medical College Hospital and could not survive from Jaundice and died.
Pregnant Pachyderm Death Breaks Human Hearts with Big Questions about Humanity
The fact that even though it was unable to eat and with unbearable pain, the elephant did not hurt humans.