ads
President Donald Trump's Visit to India and Congress's Questions to PM Modi
Vignesh Suppian (Author)
Published Date :

Feb 25, 2020 10:38 IST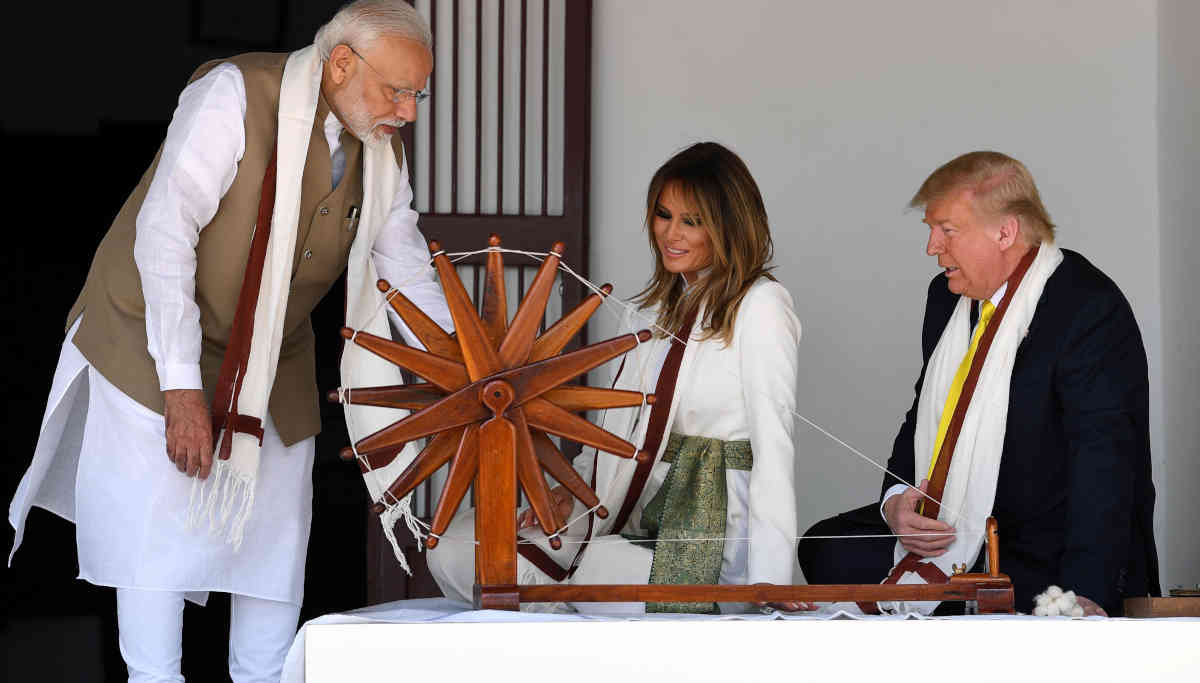 Congress, the principal opposition party, called President Trump's visit as 35 hours Tamasha.
Shiv Sena an ally of BJP for more than 30 years and now parted ways said in their mouthpiece Saamana that there would not be an iota of difference in the lives of the poor and middle-class people in India due to Trump's visit.
Business Standard reports that Rs. Eighty-five crores will be spent for Trump's three-hour stay in Ahmedabad, which includes constructing a wall to hide the slums.
Robert Lighthizer, the USTR, or the US Trade Representative who pilots trade deal negotiations is not in the Trump's tour to India. And it was already confirmed by US officials that the much-awaited trade deal would not happen during this visit as the US wanted to get the balance right.
Yesterday during his first day of the tour, Trump only talked about defense deals to be inked today and nothing about any trade deals. The defense deals are said to include purchases of weapons from America worth 3 billion US dollars. And also, during his Sabarmati Ashram visit, there was only mutual praise among Trump and Modi and without even once mentioning about the father of our nation, which has become a controversy now.
Congress has recently posted five questions ahead of Trump visit on its importance for Indians which include
Will the prime minister stop Trump's restrictive immigration policies that increased the rejection rate of H-1B visas from 6% in 2015 to 24%, affecting more than 50,000 Indians, mostly the IT professionals?
With the US to sign a deal with the Taliban on February 29, what is the concern of India's redlines and also not including India in the talks which suffered most by the plane hijack, which caused the release of Masood Azhar in Kandahar?
Will Modi restore the GSP or the general system of preference given by the American government from 1974 and stopped by Trump administration on June 5, 2019, affecting Indian exports worth 5.6 billion USD every year?
Due to US sanctions, India ended buying cheaper oil worth 250 crores every month from Iran with credit for 90 days. Will PM get cheaper oil from America?
While India is to commit for more than 3 billion USD purchases, why is it quiet on relief from higher tariffs which have hit Indian exports of 761 million USD, which fell nearly to half of it now?
Meanwhile, former prime minister Manmohan Singh who had earlier accepted to come for the grand banquet in Rashtrapati Bhavan for President Trump has informed that he will not be attending it due to health reasons. Sources confirm that since there is no meeting of Trump with opposition leaders as per custom, Manmohan Singh must have decided to skip the event.
Whatever the praises or criticisms only after signing the deals and MOUs today, people will know whether Trump's visit is to make the American weapon manufacturers more rich or useful for the Indian people.
President Donald Trump's Visit to India and Congress's Questions to PM Modi