ads
DMK general secretary K. Anbazhagan Look Back
Vignesh Suppian (Author)
Published Date :

Mar 07, 2020 14:49 IST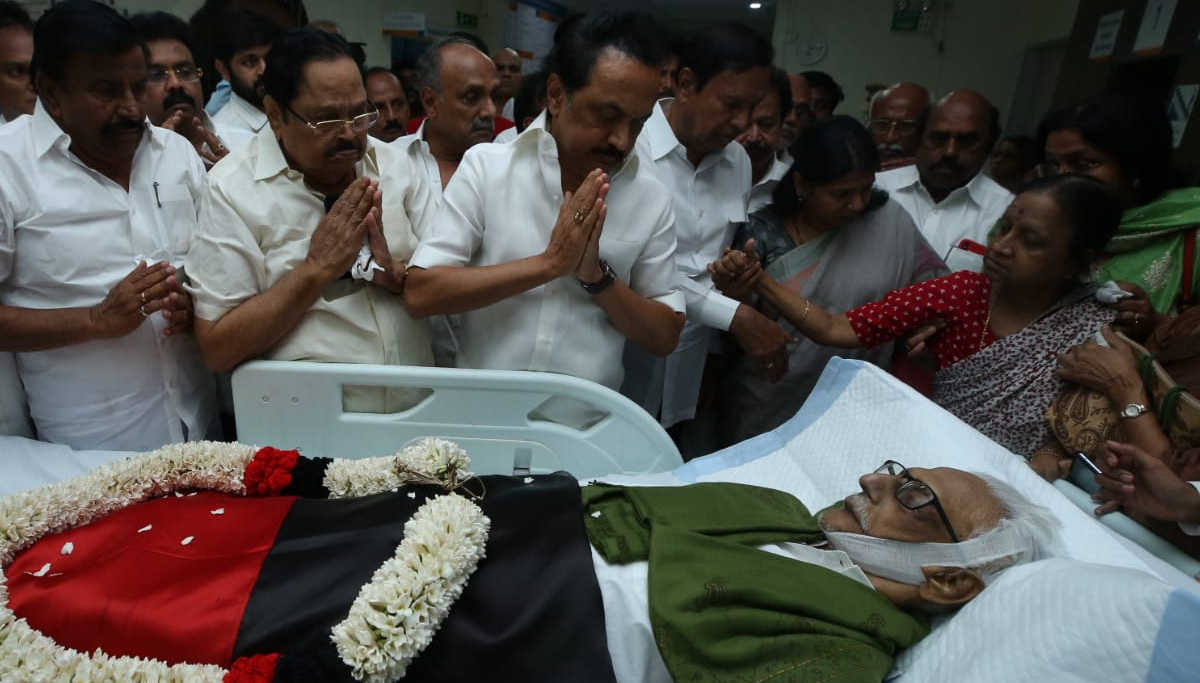 DMK general secretary K. Anbazhagan passes away: The unsung hero of DMK and its general secretary from 1977 until now, Anbazhagan passes away today, February 7. A close confidante of Anna and Kalaignar, he died today at 1:05 am due to age-related illness at the age of 97 in Apollo Hospitals. DMK leader Stalin says that after losing his father, now he has lost his periyappa also. People from across party lines condole the gentleman politician K. Anbazhaga.
Perasiriyar is how Kalyanasundaram Anbazhagan was even called by his friends and party seniors Anna and Kalaignar. It was because Anbazhagan worked as a professor in Chennai Pachiayappa's college from 1944 to 1957. After becoming active in politics, he became nine times MLA, nines times DMK general secretary from 1977 until today. He was also four times minister of the state, including the finance minister. He was also an onetime MP. In his entire political career, K. Anbazhagan has never indulged in cheap politics or criticizing anyone at a personal level. It is the reason that scores of people from all political parties are now paying the condolences at his residence, and some expressed their views on him including.
MK Stalin – DMK leader: In a statement, Stalin had said that DMK condoles the death of its general secretary K. Anbazhagan. The DMK flags will fly in half-mast for the next week, and all DMK functions stand canceled for the said period. He also tweeted a handwritten note in praise of Anbazhagan, where he refers to him as Periyappa or elder uncle. He states in it many emotional relationships with Anbazhagan during this lifetime. Now he says that to whom will he go for advice or appreciation.
Rajni: The death of Perasiryar is a significant loss. In all his 60 years of political life, he only earned two things. One is respect, and the other is also respect only.
Nallakannu, Communist leader: He was one of the tall leaders of DMK and a great social reformist.
Tirnavakarasu Congress MP: From the year 1949, he was with DMK and one who built it. We lost a great leader now.
Two daughters and a son survive Perasiriyar, and he may be cremated today evening, and details regarding it are awaited. With the demise of K. Anbazagan, Tamil Nadu has lost one of its gentlemen politicians and a great leader.
DMK general secretary K. Anbazhagan Look Back