ads
India's First Disinfection Tunnel set up in Tirupur
Vignesh Suppian (Author)
Published Date :

Apr 01, 2020 15:36 IST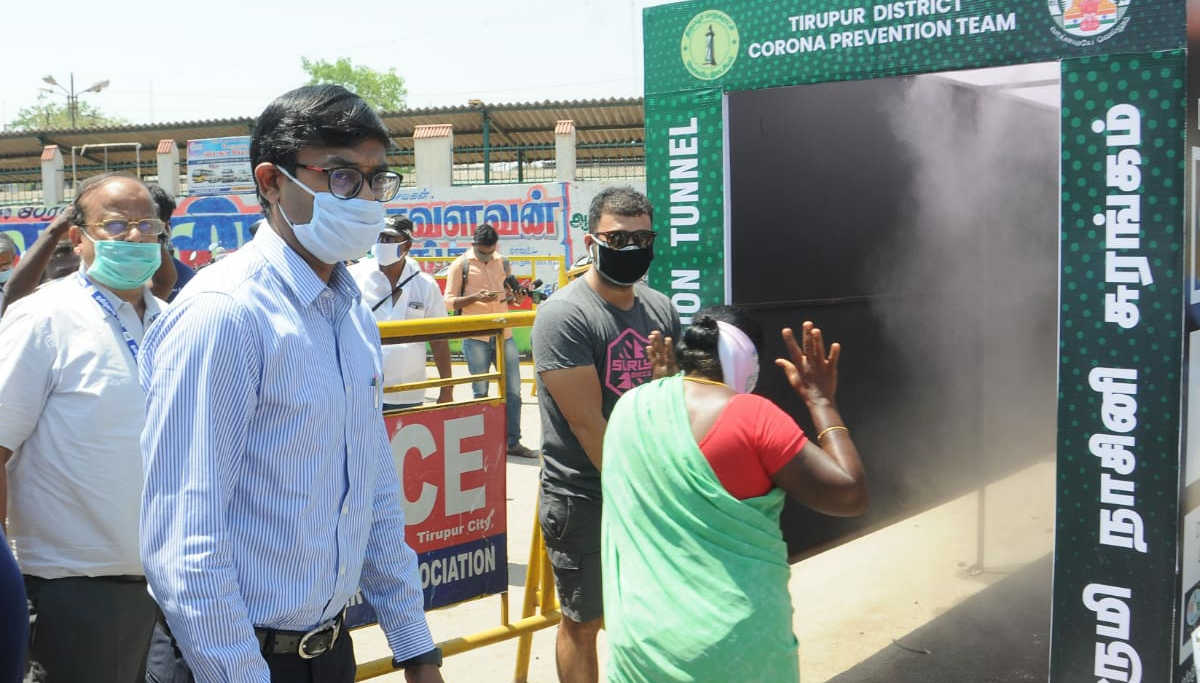 Coronavirus, apart from its perils, also bring in the innovativeness of Tamil people to be safe from it. One such effort is the disinfectant tunnel in the garment city Tirupur to keep the people coming for purchase in the Thennampalayam market safe from coronavirus infection.
K.Vijayakarthikeyan, the collector of Tirupur district who is appreciated widely for his efforts in containing the coronavirus in Tirupur, is to inaugurate the disinfectant tunnel today April 1. Sarnitha Venkatesh, a resident of Tirupur, has installed this disinfectant tunnel for the first time in India by spending money from his pocket.
Tirupur is a garment city with more than 10,000 manufacturing units. People from all over India work in Tirupur, and during the lockdown announcement, most of them were safeguarded by the collector. When many cities like Mumbai and Delhi saw a mass exodus of the migrants, Tirupur faced fewer problems due to his efforts. Also, the collector was worried about the huge crowds coming to the markets to buy essential commodities.
Since, there is no way to stop them as they need the essentials, the time for buying was reduced only up to 2:30 PM from March 31. But since social distancing was not possible in markets, Sarnitha Venkatesh has come out with this novel idea of disinfecting the people who come and leave the market to stop the spread of coronavirus.
Sarnitha Venkatesh, while speaking to the Press, said that he is doing a water treatment business. On seeing a video of a disinfectant tunnel used in Turkey, he and his team had created this tunnel within two days, which is now in a trial run in the Thennampalayam market. The collector is to make it open to the public today, he concluded.
How far this disinfectant tunnel could help in killing the deadly coronavirus is a subject matter of scientific research. But the effort that shows empathy to fellow human beings to be not affected by this deadly virus is commendable.
And once again, the Tirupur collector with his many proactive measures is keeping the Tirupur people as safe as possible from the coronavirus spread.
India's First Disinfection Tunnel set up in Tirupur