ads
Producer Council Seems To Call Off Its Strike
Karthick Rajkumar (Author)
Published Date :

Mar 21, 2018 15:51 IST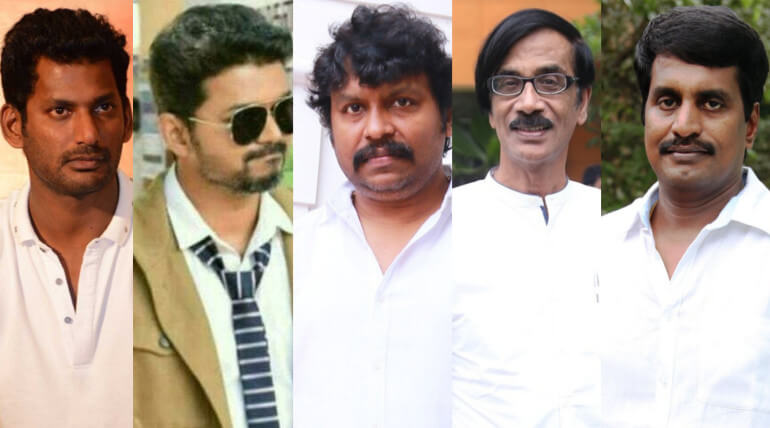 Tamil Film Producers Council's strike has been continuing from March 16 over the issue of Digital Service Producers (DSP) QUBE and the strike had left lakhs of waged labours jobless in Tamil Cinema Industry. For the last three weeks, no new releases from Tamil Cinema have screened out. Recently, Tamil Film Producer Council President and actor Vishal had approached the veteran actor Kamal Hassan to discuss the matters of the ongoing strike. Producer council had asked for support from all the producers and also instructed its members not to involve in any shooting.
In these circumstances, producer J Satish Kumar had tweeted that Actor Vijay's new film's shooting was being shot at Victoria Hall ignoring the Producer Council's strike. Satish also queried since other producers were on strike, who had provided special permission for Vijay's "Thalapathy 62" team to shoot the film. He asked for unity among producers to shut down all the shooting activities. He also advised that biggies like Vijay should try to resolve the ongoing strike issues to take it as a chance to show their love and care to the industry.
Following this, TFPC Secretary SS Durai Raj had replied that the four producers including Sun Pictures, 18th Cross Pictures, Samuthirakani and Anto Joseph had explained their inconvenience to stop the shooting due to certain reasons after which the council had gone through their request carefully and permitted to shoot only for a few more days. Durai Raj had also reasoned out for granting permission during strike clarifying that the producers would incur a huge loss because they have been spending on technicians and paying rents for shooting in crucial places like Government Buildings. Despite the clarification by TFPC Secretary, actor Siddharth criticised the decision of TFPC and questioned about the equality and unity among producers. He had also blamed the state government for not noticing the Producer's strike. In a recent interview, Vishal had commented that he would not call this a strike; instead, it could be called as a revamp of the industry. Responding to Vishal's comment, Siddharth had teased Vishal indirectly questioning him at what cost revamp was needed.
As expected, some of Vijay's fans started abusing and trolling him in social media. In an anguish, Siddharth replied the trollers not to get tempered unnecessarily and instructed them to look into his past replies to understand the present situation.
Meanwhile, actor-director-producer Manobala had said in a recent interview that the TFPC's decision in allowing shooting for Samuthirakani's low budget film "Nadodigal 2" was acceptable to an extent because the film would wind up in a few days shooting. But allowing shooting for the Sun Pictures' high budget film during the strike was highly condemnable and also the film had still 3 months shooting schedule. He added that he could not find any basis for allowing "Thalapathy 62" shooting. He also criticised TFPC's double standard decision of not giving permission to Kannan's "Boomerang" shooting contrary to permitting a few other shootings.
Theatre owner Thiruppur Subramani and actor Vivek had previously commented on the salary of biggies like Rajnikanth, Kamal Hassan, Vijay, Ajith in connection with the strike's issues. If this confusion among producers and actors exist for a few more days, the strike would be called off, according to the speculations from Tamil Cine Industry.
Producer Council Seems To Call Off Its Strike
&nbsp
Tags :&nbsp
Vijay film shooting
,
Producer council strike
,
Siddharth twitter comment
,
Vijay fans angry on Siddharth
,
Satish Kumar
,
Manobala about Vijay film shooting
,
Nadodigal 2 Shooting
,
Producers strike
,
Theater Owners Strike ended
,
Theaters strike ends in April
,
When the Theater Strike will End