ads
Bigg Boss Tamil Season 3 Day 29 Promo Confirms Love Triangle
Purushothaman Dhandapani (Author)
Published Date :

Jul 22, 2019 18:57 IST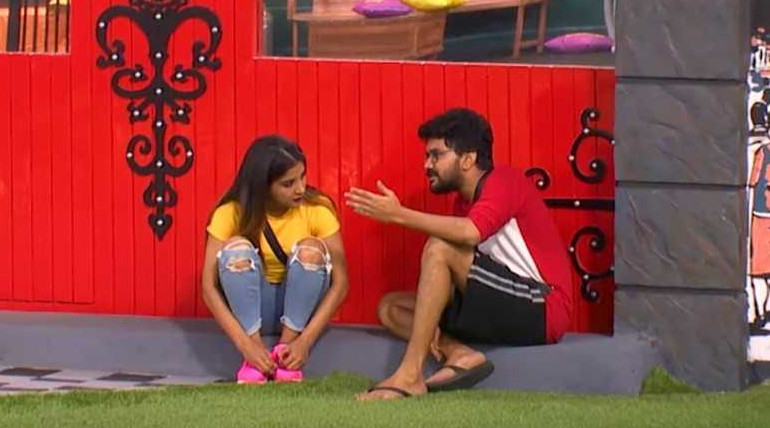 Day 29 Bigg Boss Season 3 Promo Confirms Sakshi-Kavin-Losliya Love Triangle is still in Lime Light
The first two promos confirm that the love triangle of Sakshi-Kavin-Losliya is still the focus of Bigg Boss Tamil Season 3. The first promo is Kavin with Sakshi and the second is with Losliya. In the first Kavin while speaking a task talks love dialogues with Sakshi. And in the second it is Losliya asking sorry to Kavin.
Luckily the third promo is an enjoyable one with Sandy dressed and having the makeup of Naina and surprising other contestants.
"Thirumbiam modulla iruntha" is the feeling for the audience on seeing the first promo:
The first promo starts with Madhu announcing some task called "pattu padava Parthu pesava". Kavin starts the same rheoteric of his love dialogues reading from a paper directly aiming at Sakshi. And for more trouble, Sakshi is responding positively to all of it with a lighted face.
The second promo is Losliya and Kavin again:
With the background music of a famous love song, it is this time in the second promo of Losliya asking sorry to Kavin. Forgetting her anger on Kavin and the way she responded to Cheran when he asked about her worrying is all smiles and back to love mood when she asked this sorry. But the only consolation is she says that Kavin did not act only with her.
The enjoyable third promo:
Sandy, unable to forget his Naina, gets dressed up like Vaidya and also with the perfect makeup enthralls everyone in the BB3 house. Overall the promos confirm the continuance of Kavin romance and more fun with Sandy from the three promos.
Also, today is an important day of nominating the contestants for the eviction list. Big boss will also announce the final list of five contestants for eviction this week. Brace up for more fun and emotions along with the continuance of the love of Kavin today at 9:30 PM in Vijay TV and Hotstar.
𝓢𝓸𝓻𝓻𝔂 😬😊 #Day29 #Promo2 #பிக்பாஸ் - தினமும் இரவு 9:30 மணிக்கு உங்கள் விஜயில்.. #BiggBossTamil #BiggBossTamil3 #VijayTelevision pic.twitter.com/JjMw7uPdDt

— Vijay Television (@vijaytelevision) July 22, 2019
Bigg Boss Tamil Season 3 Day 29 Promo Confirms Love Triangle