ads
Actor Ajith denies rumors of him to be active in the social media
Vignesh Suppian (Author)
Published Date :

Mar 07, 2020 17:46 IST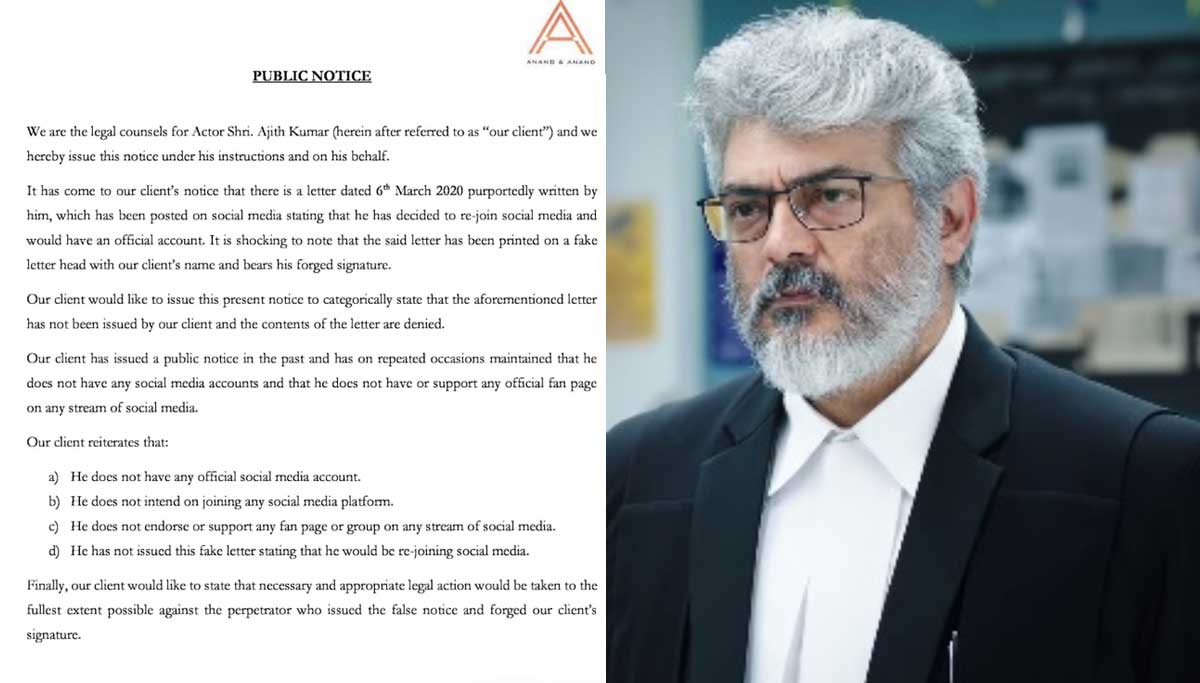 Ajith denies rumors of him to be active in the social media: Actor Ajith Kumar today, March 7, has denied the fake letter circulating from yesterday in the social media in his name. The letter was written in his forged letterhead and signature. It states that he is to again be active in social media. In a strongly worded public notice, his advocates from the law firm Anand and Anand has categorically denied such a letter from Ajith. They have also confirmed that he is not going to be part of any social media platform. Also, they informed that all possible legal action to be taken against those who were responsible for circulating such a fake letter in social media.
Valimai of Ajith is set to release during Diwali this year. And there are high expectations for it from his fans and the general public. Since many people are active in social media without much work, and create controversy in his name against Vijay. When one of their movies is released, one group will start supporting the film to sky high, and others will do everything to bring it down.
They form groups in the name of Ajith or Vijay fans. And hashtags in the title of movies and others will be circulated widely in social media. But both Vijay and Ajith, from time to time, have said in many occasions that they are good friends and got nothing to do on such false propaganda. Also, it is to be noted that Ajith is not part of any social media platform so far. Even he is having a solid principle of not even attending functions and following it in letter and spirit.
In these circumstances, yesterday for internet notoriety or for creating a kind of new issue in social media, a letter started to circulate. It said that Ajith is soon going to be active in social media and will have an account soon. Now his advocates have issued the public legal notice to confirm that Ajith is not going to be part of any social media activities whatsoever. Also, they are contemplating to take all legal steps against those who forged their client Ajith's signature and letterhead.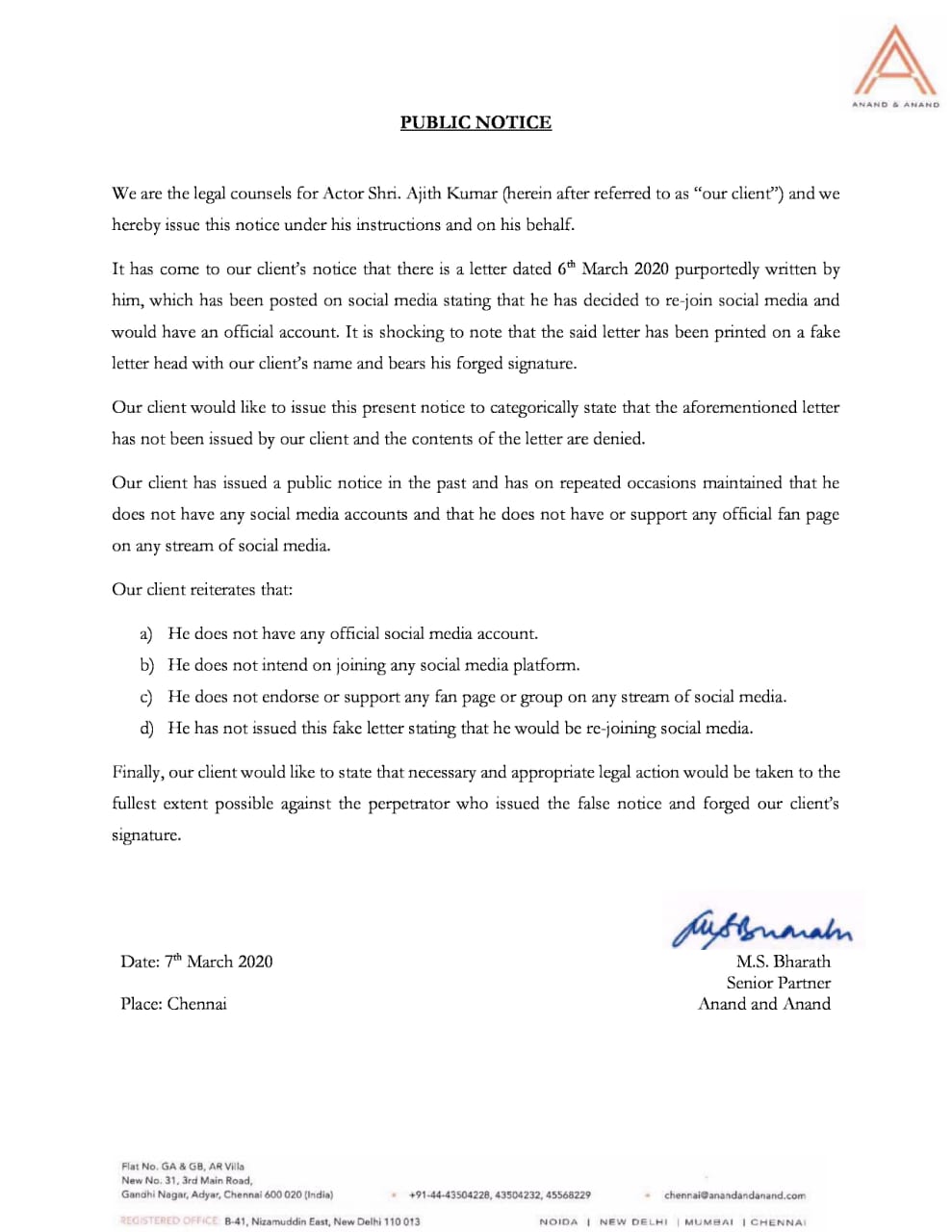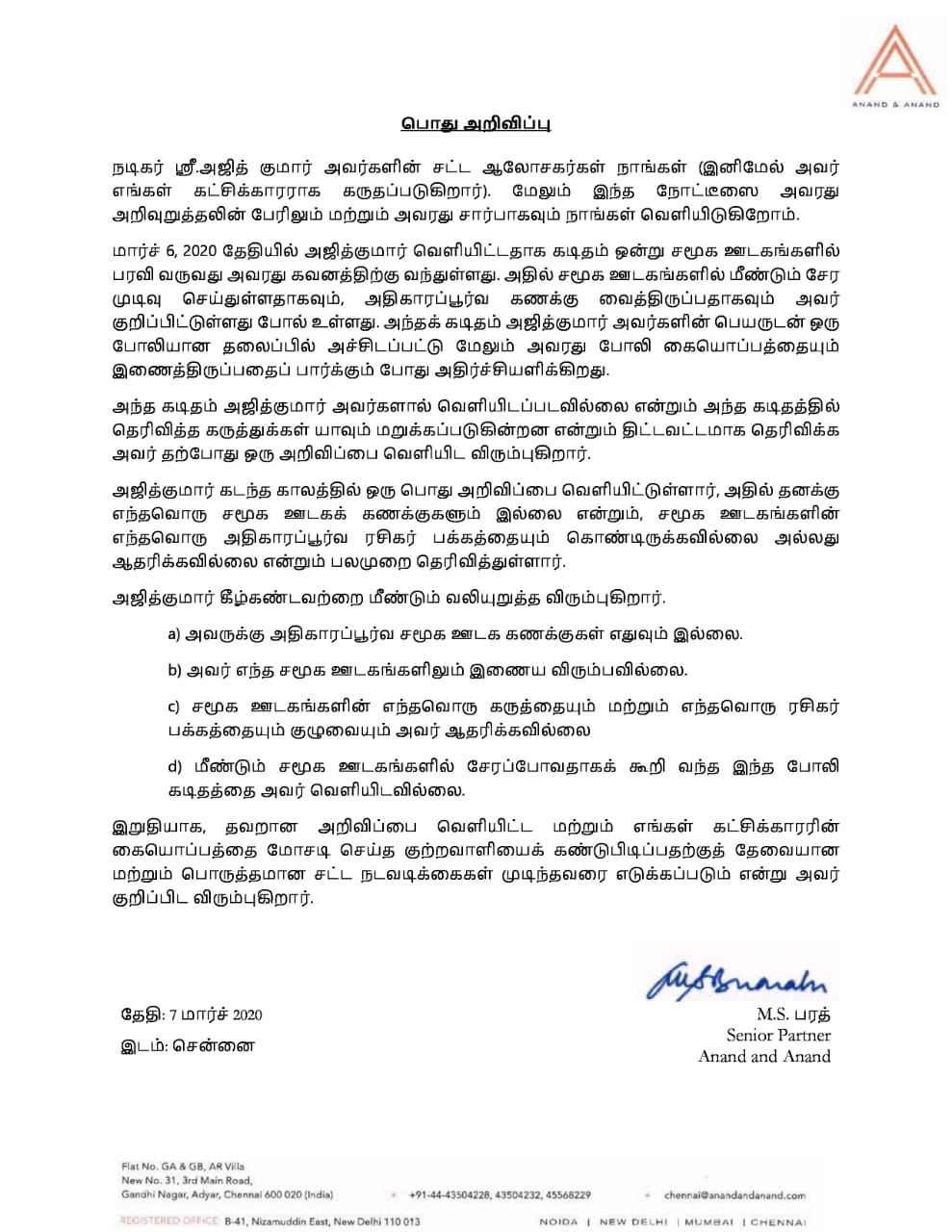 Actor Ajith denies rumors of him to be active in the social media