ads
Sketch Movie Audience and Critics Responses
Vignesh Suppian (Author)
Published Date :

Jan 12, 2018 10:02 IST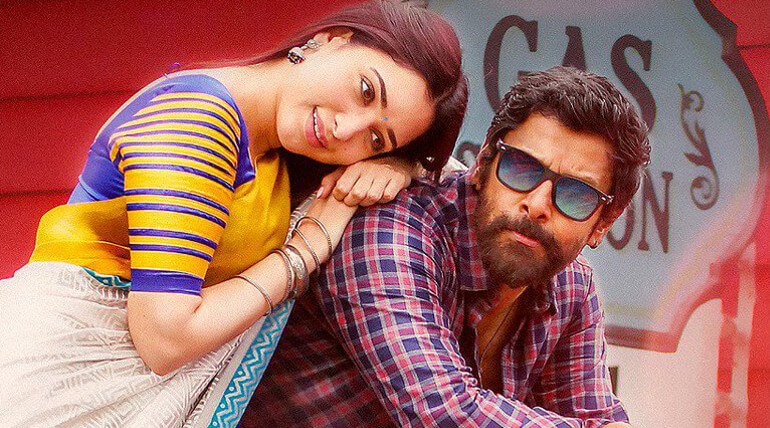 Vikram's thara local action thriller that had hit theatres today worldwide is receiving warm welcome by the audience and critics. Tamannaah Bhatia is pairing with Chiyaan for the first time. S Thaman tuned background score is one of the highest expectations of the audience from this movie.
Sketch is said to be a drama taking place in North Madras. The stylish Vikram and Thaman music for him are lauded by the critics. Directed by Vijay Chander of Vaalu fame and produced by V Creations, the Sketch is lauded as a clean entertainer with decent interview block and unexpected twist at the climax with message.
There are expectations for Vikram and Tamannaah lovely first time combo, the talented Vikram's stylish mass performance and Thaman's BGM for Vikram. Here are some critics and audience tweets about the film.
Liked @MusicThaman's work in #Sketch. Has given peppy songs! And, his RR is apt for both the mass scenes & emotional moments.@tamannaahspeaks looks even more fair & lovely than usual, in classy costumes given by @amritharam2. #ChiyaanVikram aces the bearded, casual swag look

— Kaushik LM (@LMKMovieManiac) January 12, 2018
Half way through #Sketch. #ChiyaanVikram in full-on commercial mode. Slo-mo shots galore. Picks up steam before the interval with a chase sequence.

— Surendhar MK (@SurendharMK) January 12, 2018
#Sketch 1st half - Routine mass template set in North Madras. The decent pre-interval sequence stands out. #ChiyaanVikram looks effortlessly stylish, sporting cool costumes and leading the thug life. @MusicThaman has done his job well with the buildup BGMs.

— Kaushik LM (@LMKMovieManiac) January 12, 2018
#Sketch : It's #ChiyaanVikram show all the way.. His swag and Mass lift the movie.. A North Chennai revenge story.. @tamannaahspeaks looks gorgeous and has a decent role.. @MusicThaman BGM and songs r good.. Watch it for #Chiyaan

— Ramesh Bala (@rameshlaus) January 12, 2018
#Sketch 2nd half - Plays around with sentiments, action and romance. Has a decent element of suspense which is opened up in the end. The climax message seems to be added on just as an after thought!

— Kaushik LM (@LMKMovieManiac) January 12, 2018
#Sketch is a one man show of Chiyaan Vikram 🔥🔥🔥His attitude and Screen presence 👌😎 with Thaman's Bgm therichified

— rajesh (@Rajuviki) January 12, 2018
#Sketch Good first half lets bring it on a second half #Chiyaan sir all the way so happy to c him such a relaxing role with loads of mass scenes

— Suresh kenny (@sureshmylapore) January 12, 2018
#SKETCH - 1st Half
Filled with more commercial elements.. Good to see #ChiyaanVikram handling those elements in a trimmed version.. So far screenplay looks slow but Vikram's characterisation looks very strong

— Khishore R Kumar (@itsKhishore) January 12, 2018
Sketch Movie Audience and Critics Responses
Related News