ads
Prabudeva Stars Gulaebaghavali Audience Views And Celebrities Wish
Purushothaman Dhandapani (Author)
Published Date :

Jan 12, 2018 11:40 IST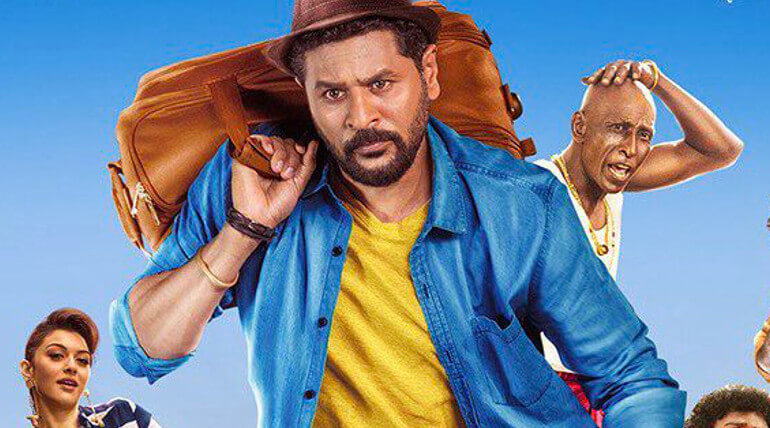 Prabhudeva and Hansika Motiwani starring adventurous comedy entertainer Gulaebaghavali is touted to be fun ride and prefect Pongal outing for the family audience. The veteran actor, 80s and 90s top heroine Revathy plays an important role in it.
Her performance are well known to the audience and coming to this movie she is said to be carrying the plot on her shoulder. After much acclaimed Dhanush's Power Paandi she has the strong role in this too.
Prabhudeva had already attracted the audience by the dance movements in promo, songs and trailer. Hansika is given a meaty role in it additional to glamour elements. Vivek-Mervin music to have an key role to carry the movie with delights.
Anandraj, Ramdoss, Sathyan, Rajendran, Madhusudhan Rao, Mansoor Ali Khan, Yogi Babu are playing supporting roles.
Enjoyed #Gulaebaghavali, an adventure comedy with some well written comic stretches. It's a relief to see an actress steal the limelight in a meaty part and @RevathyAsha is a delight to watch in the film.

— Haricharan Pudipeddi (@pudiharicharan) January 11, 2018
#Gulaebaghavali 1st half - Set in the world of thieves & frauds. Super Fun for the most part. @PDdancing's #Guleba song is ultimate👌 @RevathyAsha characterization is something new for the veteran. @ihansika looks super glamorous🔥

— Kaushik LM (@LMKMovieManiac) January 11, 2018
#Gulaebaghavali : A fun filled commercial entertainer ! @RevathyAsha In a never seen b4 role , the ever gorgeous @ihansika , The main backbone of the movie being the comedy of @iYogiBabu ,Munish,Mansoor,Rajendran ! The bgm of @MervinJSolomon 👍 @ihansika @PDdancing @kjr_studios

— ramnath shankar (@ramnathjourno) January 11, 2018
It's not quite there in terms of both writing and execution, but #Gulaebaghavali is quite funny, with the cast, especially @RevathyAsha, having a ball. A pleasant surprise, like #MaragathaNanayam last year. Could be the dark horse among the three Pongal releases. 👍

— Suganth (@msuganth) January 11, 2018
#Gulaebaghavali is a slapstick fun ride with lots of humour and a bus load of comedians. @RevathyAsha simply steals the show with such perfect comic timing. @PDdancing dances like a Dream @ihansika is perfect eye candy. Enjoyable! @kjr_studios

— Sreedhar Pillai (@sri50) January 11, 2018
In #Gulaebaghavali 2nd half, Rajendran's mother sentiment comedy stands out. Overall, it's a madcap heist comedy with many comedy actors, an in-form @PDdancing, unexpected @RevathyAsha & a fab looking @ihansika. Has many LOL moments. Watch it for some Jolly Timepass. @kjr_studios

— Kaushik LM (@LMKMovieManiac) January 11, 2018
#Gulaebaghavali is a jolly good entertainer. @revathyasha's surprise characterization and Motta Rajendran's Amma sentiment portions are the highlights. And of course the addictive #Guleba track in @pddancing's flawless dance moves.

— Surendhar MK (@SurendharMK) January 11, 2018
Celebrities' Wishing Tweets for the team.
#Gulaebaghavali - really a good laugh riot with enjoyable slapstick comedy with @PDdancing & big team. @RevathyAsha mam steals d entire show with such energetic stupendous performance back from evergreen #Aranketravelai. Best Wishes @kjr_studios Rajesh Sir 4 Sure Shot 😊👍🏼

— Arivazhagan (@dirarivazhagan) January 12, 2018
Best wishes to you @ihansika and the whole team master 😊 was a super fun ride ! #Gulaebaghavali https://t.co/AFOY1cVA7b

— Shanthnu Buddy (@imKBRshanthnu) January 12, 2018
A complete fun film #Gulaebaghavali 👍👍😘😘 @PDdancing sir is a treat to watch 👍👍@ihansika forever sexy and beautiful 😘😘 all the best to the team 💪 congrats @kjr_studios #Rajesh bro 👍👍 pic.twitter.com/gTLUNGCgd0

— Arya (@arya_offl) January 12, 2018
Best wishes to @PDdancing master @ihansika and #Gulaebaghavali team. Releasing today. Watch in theatres

— Sathish (@actorsathish) January 12, 2018
Wishing @ihansika and the rest of the crew for #Gulaebaghavali all the best ...

— Sriya Reddy (@sriyareddy) January 12, 2018
Wishing all the three teams #TSK #Sketch and #Gulaebaghavali good luck for the release today. @Suriya_offl @VigneshShivN, #Chiyaan #Vikram, @PDdancing 😊 pic.twitter.com/2QUaUd2b0g

— Thirunavukarasu (@DOP_Tirru) January 12, 2018
Prabudeva Stars Gulaebaghavali Audience Views And Celebrities Wish
Related News