ads
Lakshmi Ramakrishnan Takes Digs On Aruvi Movie
Purushothaman Dhandapani (Author)
Published Date :

Dec 19, 2017 10:50 IST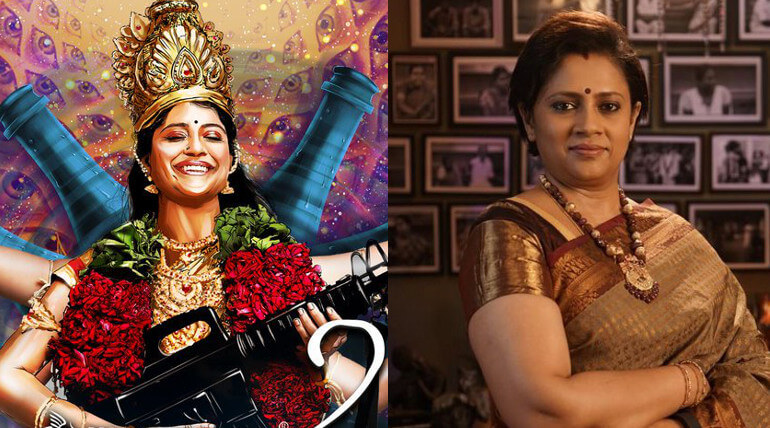 Aruvi, which is receiving rave reviews and overwhelming audience responses is not the exemption without controversies. The movie is facing controversies in the social media pages now. Some people are claiming the movie is copied version of the Egyptian movie Asmaa and some say it is over rated movie."
Meantime the popular reality show 'Solvathallam Unmai' host and actor Lakshmi Ramakrishnan took dig on Aruvi movie as "feminist film made by cheap & personal attacks on another woman! Hello!!! Plagiarism and personal attacks on women are not right!!!".
She also stated "film industry has to be responsible and not get into cheap spoofing and personal attacks for their own benefits/ hidden agendas. Remember we cater to immature people like this one !
"Being a Woman, that too outspoken, in media , successful in some ways and happened to be born in the so called ' brahmin' community, that too having a Palakkad Iyer accent and settled in Tamilnadu is worse than being affected with HIV"
Here are her tweets over Aruvi.
We can't reveal they are HIV positive, in the show, but, we live in a state where some fools think make believe characters in cinema are true!!! So why not show real characters & incidents, which cannot be revealed in show, through cinema?! https://t.co/ZUUVbU9AjU

— Lakshmy Ramakrishnan (@LakshmyRamki) December 19, 2017
They don't respect living people and women, why would they respect religious sentiments?!
Making a feminist film by personally attacking another woman is the cheapest and most disappointing part of this film! https://t.co/8ftxB003k0

— Lakshmy Ramakrishnan (@LakshmyRamki) December 19, 2017
And the worst part is prominent media people appreciating the film in spite of the gross disrespect and abuse of another woman! https://t.co/8ftxB003k0

— Lakshmy Ramakrishnan (@LakshmyRamki) December 19, 2017
Remember #Slumdog ? Based in a popular show? They did not associate or believe that BIg B actually does what is shown in the film to his participants! But fools like this one, believe the Director's imagination is what actually happens! https://t.co/OeMKdwdtZu

— Lakshmy Ramakrishnan (@LakshmyRamki) December 19, 2017
If the makers/ director has the b.... let them face me , live on camera, and answer my queries, good opportunity for publicity for the film! Can any of the popular channels including @ZeeTamil , come forward to do this? https://t.co/OeMKdwdtZu

— Lakshmy Ramakrishnan (@LakshmyRamki) December 19, 2017
film industry has to be responsible and not get into cheap spoofing and personal attacks for their own benefits/ hidden agendas. Remember we cater to immature people like this one ! https://t.co/OeMKdwdtZu

— Lakshmy Ramakrishnan (@LakshmyRamki) December 19, 2017
Very disappointing , is it a stolen idea?!! Sad if it is 👎👎👎👎our talents have to resort to plagiarism and personal attacks & defaming of colleagues for sake of money and fame😭 https://t.co/HRMMFZYM6P

— Lakshmy Ramakrishnan (@LakshmyRamki) December 19, 2017
Lakshmi Ramakrishnan Takes Digs On Aruvi Movie
&nbsp
Tags :&nbsp
Lakshmi Ramakrishnan Digs Over Aruvi Movie
,
Lakshmi Ramakrishnan over Aruvi
,
Lakshmi Ramakrishnan views over aruvi movie
,
Lakshmi Ramakrishnan tweets against aruvi movie
,
Lakshmi Ramakrishnan digs aruvi
,
Lakshmi Ramakrishnan aruvi
,
Lakshmi Ramakrishnan aruvi controversies
,
aruvi controversies
,
aruvi movie controversies
,
aruvi vs lakshmi ramakrishnan
,
aruvi lakshmi ramakrishnan
,
lakshmi ramakrishnan aruvi dig
,
lakshmi ramakrishnan views on aruvi
,
Lakshmi Ramakrishnan troll aruvi
,
Lakshmi Ramakrishnan reaction over aruvi movie