ads
Jai starring Balloon Movie Live Audience Responses
Vignesh Suppian (Author)
Published Date :

Dec 29, 2017 13:45 IST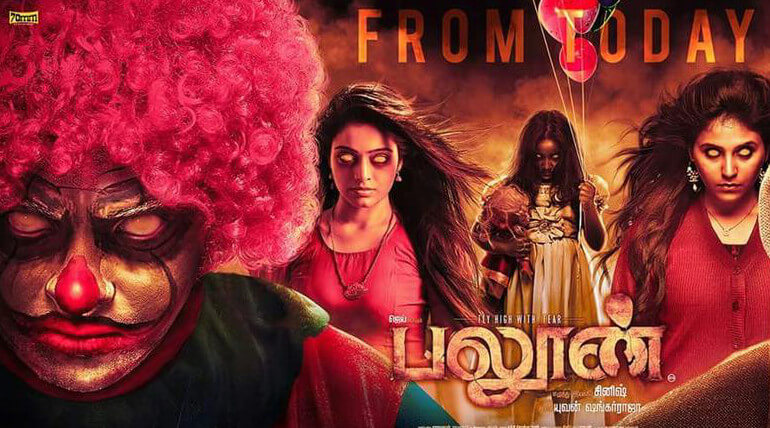 Balloon, a horror comedy had hit theatres today and receiving good responses from audience and critics. Jai, Anjali, Janani Iyer starring Balloon is directed by Sinish and it is getting wishes from celebrities for the success.
Chandini Tamilarasan and Yogi Babu are playing important roles in tit. Yuvan Shankar Raja tunes is said to be rocked in thrilling scenes. Saravanan's visuals and Ruben cuts are lauded by film analyst.
The movie is produced by Dhilip Subbarayan under the banners 70mm Entertainment and Farmer's Master Plan Productions while distributed by Auraa Cinemas. Here are some wishes and interesting responses from social media pages.
Vikranth, Varalaxmi, Arya and other wished the team. Directors Arivazhagan, Dharanidharan, actor Harish Kalayan, host Kiki Vijay, Karunakaran and others lauds the movie as well made laughing riot.
@iYogiBabu on fire! Also liking how it is shot! @sinish_s makes the #balloon fly high using comedy and a back story that doesn't get completely revealed! #FirstHalf

— Abishek S (@cinemapayyan) December 28, 2017
#Balloon - Well executed horror with all essential haunting elements including @thisisysr magical touch , good takeoff , @iYogiBabu humour & noted post climax. Best Wishes @sinish_s @Actor_Jai @yoursanjali @jan_iyer @SaktheeArtDir 😊💐👍🏼

— Arivazhagan (@dirarivazhagan) December 28, 2017
2nd half is tad longer, but post climax did have a nice touch!

Made on the classic revenge drama premise, #Balloon might work for a leisure watch!

— Abishek S (@cinemapayyan) December 28, 2017
Watched #Balloon movie great work @sinish_s Machan.. good visuals n direction.. @YogiBabu_offl comedy vera level👌👌👌@dhilipaction Master great work @thisisysr Music super.. overall I enjoyed.. tomo onwards on theatres pic.twitter.com/H7l7FeVyhv

— Doss ramasamy (@DossRamasamy) December 28, 2017
#Balloon -A well made Horror film from Commercial Dir @sinish_s 👏 with Little Maestro @thisisysr magical BGM, @iYogiBabu the real show stealer💪& Solid performance by @Actor_Jai all fav's @yoursanjali cute @jan_iyer Best wishes Team 💐A Yuvan Shankar Raja Musical 😍 @sathishmsk pic.twitter.com/fJk1d2otBM

— DHARANIDHARAN (@Dharanidharanpv) December 29, 2017
#Balloon The music director @thisisysr 's card in the opening credits comes after the director's name ! Much respect #YuvanMusical

— Harish kalyan (@iamharishkalyan) December 29, 2017
#Balloon interval - Laughing my lungs out here. Yogi babu's name is panda and he eats mutta honda 😁😁😁😁😁. Your stomach will hurt from his comedy. Street smart commercial horror flick from @sinish_s . So looking forward to the second half ! 👌👌👌

— Prashanth Rangaswamy (@itisprashanth) December 28, 2017
#Balloon flies high scary hilarious enjoy this horror comedy in theatres to feel U1 BGM @ActorJaiFans @yoursanjali @jan_iyer @iYogiBabu 🎈🎈💐💐Dop and #Dirsinish 👏🏻👏🏻👏🏻 pic.twitter.com/VK1rt6ly4X

— Karunakaran (@actorkaruna) December 29, 2017
Alll the besttttt @Actor_Jai @yoursanjali @jan_iyer for #Balloon I'm sure it's gonna be super scaryyyy..!!! Will catch it soon.!!!

— varu sarathkumar (@varusarath) December 29, 2017
#Balloon 3.25/5: Good one by @sinish_s. @Actor_Jai as an aspiring director & Balloon seller is fantastic. Great performance from @yoursanjali. @jan_iyer impresses in the short role she has got. Yogi Babu & Pappu rocked it. @thisisysr bgm is a big plus.

— Manobala Vijayabalan (@ManobalaV) December 29, 2017
Watched #Balloon good work @sinish_s brother Vera level best wishes 💐💐💐💐👌👍 Don't miss it #BalloonFromToday

— prasanth.P (@p_santh) December 28, 2017
All the best to the whole team of #Balloon for a blockbuster #sinish @Actor_Jai @yoursanjali @jan_iyer n one n only @thisisysr 👍🏻👍🏻 pic.twitter.com/xaN4zfnefy

— Vikranth Santhosh (@vikranth_offl) December 29, 2017
#Balloon a laugh riot. A horror comedy u can enjoy wid ur family for dis holiday season 😀 wishing all my frnds @jan_iyer @yoursanjali @Actor_Jai @sinish_s n the entire team all the very best😊👍 pic.twitter.com/e6nYC02w6X

— kiki vijay (@KikiVijay) December 29, 2017
Thoroughly enjoyed watching #Balloon . Has a smart premise and thrilling moments aplenty. A well packaged thriller which turns out to be an engaging watch... @Actor_Jai @sinish_s @jan_iyer #Anjali pic.twitter.com/8Ndo2fy3YM

— sridevi sreedhar (@sridevisreedhar) December 29, 2017
Have a super super success darling @Actor_Jai 😘😘😘Wishing the team #Balloon @jan_iyer #Anjali @sinish_s @auraacinemas 😘😘😘 Watch it in theatres 👍👍👍 pic.twitter.com/zgSiG4x4sk

— Arya (@arya_offl) December 29, 2017
Jai starring Balloon Movie Live Audience Responses
Related News