ads
"Akshay kumar, the first super star in the world to talk about menstrual hygiene" - says Real Padman
Sundar Vadivel (Author)
Published Date :

Dec 12, 2017 10:17 IST
Padman is ready to hit theatres on Republic Day, 26th Jan 2018 worldwide. Inspired by the true story of social entrepreneur from Coimbatore, Tamil Nadu the movie has Akshay Kumar, Sonam Kapoor and Radika Apte in leads. It is directed by English Vinglish, Shamitabh director R Balki.
Akshay Kumar will reprise the role of real padman Arunachalam Muruganantham in the film, the man who struggled to find the comfortable and hygienic product for women. The new poster shows Akshay Kumar is with sanitary napkin in his hands and his face filled with enormous joy about his finding.
The star shared the new poster with texting words "This pad giving woman 2 months extra life. Find out how... #PadMan, this Republic Day, 26.01.18".
Twinkle Khanna, Akshay Kumar's wife and producer of this movie said "The spotlight shines on this remarkable conversation and movie truly because of one man,my friend @murugaofficial the real #PadMan"
Sonam Kapoor shared "This Republic Day, be inspired and delighted with the story of a man who made a great change. Couldn't be prouder to be part of this special story! "
The real PadMan Muruganandham earlier tweeted "Meanwhile the real pad man Muruganantham earlier shared "@akshaykumar ji is the first super star in the world to talk about menstrual hygiene and taboos surround it. I'm happy that he is portraying my story as #Padman @mrsfunnybones @sonamakapoor @PadManTheFilm"."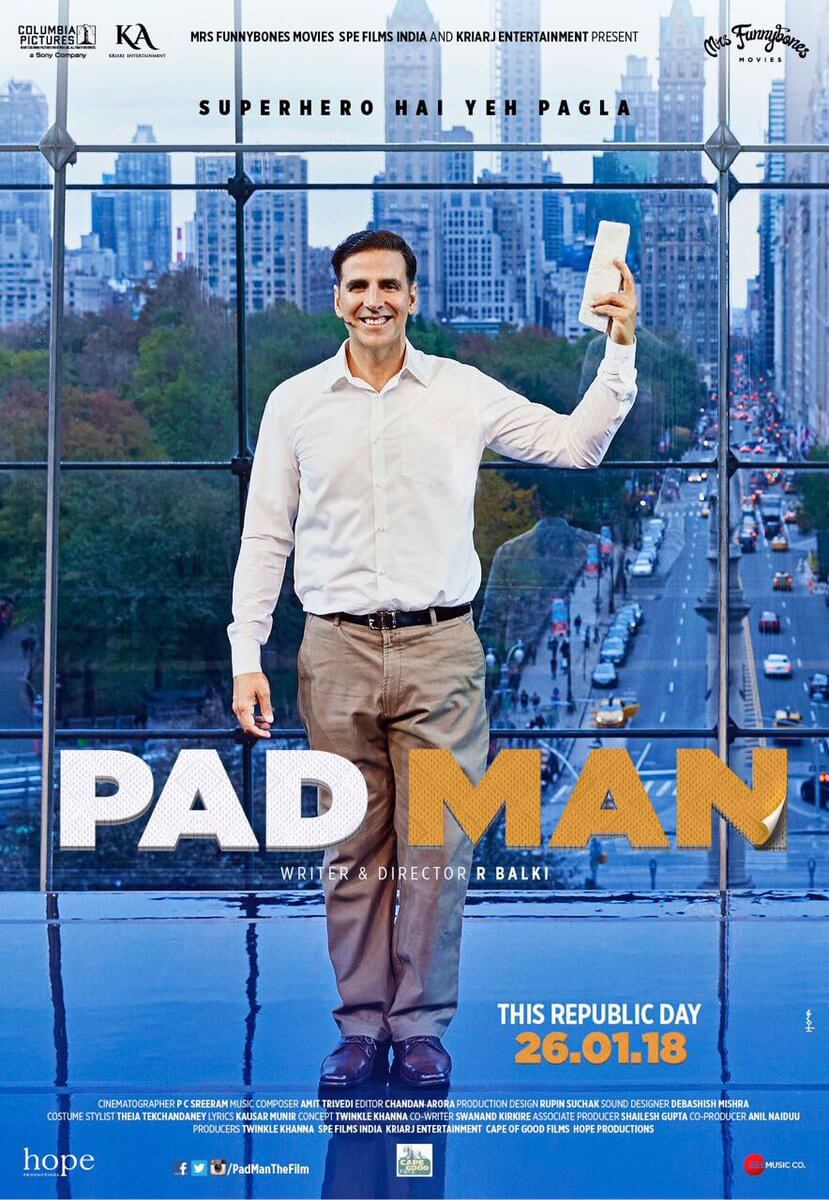 PadMan New Poster
"Akshay kumar, the first super star in the world to talk about menstrual hygiene" - says Real Padman
&nbsp
Tags :&nbsp
Radhika Apte
,
sonam Kapoor
,
director R Balki
,
Muruganandam
,
reel vs real padman
,
padman movie release
,
padman new poster
,
akshay kumar
,
padman movie
,
real padman
,
akshay Kumar padman
Related News