ads
69th Republic Day Wishes From Celebrities
Vanaja (Author)
Published Date :

Jan 26, 2018 12:10 IST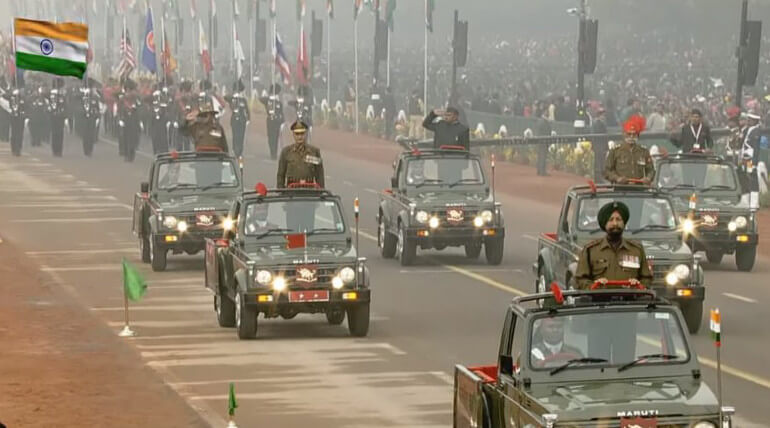 India is celebrating 69th Republic Day today on 26th Jan 2018. School students have hoisted the flags across the nation and sweets are distributed among them. Meantime Capital is witnessing ceremonial Parade at Rajpath. The parade had begun at Amar Jawan Jyoti at India Gate.
Colourful cultural performances were made by people from different states. The awestruck aerobatics, BSK bikes and other programmes were held at the event. Celebrities and leaders across the nation are tweeting Republic Day wishes for the people.
The event is headed by leaders of 10 ASEAN nations. Daring stunts were performed by Daredevil women from Border Security Force. Navy, Militants, Air force had marched in the path. Several politicians including President Ram Nath Kovind, Prime Minister Narendra Modi, Rahul Gandhi, Amit Shah, Smriti Irani and others attended the event.
Here are some celebrities' Republic Day tweets.
Let art speak freely
Let effort be uninhibited
Let artists create what they desire
Let swadeshi work be celebrated
Let skill be rewarded by letting it thrive
Let this happen without funda'mental' fear
For at the end, they are fundamentally our rights
Happy #RepublicDay

— Irrfan (@irrfank) January 26, 2018
This #RepublicDay, let's celebrate the true values of our great nation which guide each one of us. Let's work together & come forward to help each other for the upliftment and betterment of our society. Jai Hind!🇮🇳

— Raashi Khanna (@RaashiKhanna) January 26, 2018
Finally!!!!! It's so so heart warming to see this small step of change 🇮🇳 https://t.co/9nDuZi4Olb

— taapsee pannu (@taapsee) January 26, 2018
India is a treasure trove of diversity... let's cherish her... appreciate her and vow to work towards a better and brighter future for India. #HappyRepublicDayIndia #JaiHind pic.twitter.com/o2VQkUgwVg

— PRIYANKA (@priyankachopra) January 26, 2018
Republic Day Parade celebrations in Puducherry. With Chief Secretary Ashwini Kumar and DGP Sunil Gautam, elected representatives, Public officials, School Principals, awardees, thousands of schools children++.Totally grateful to the Divine for the opportunity to serve Puducherry. pic.twitter.com/hxAGiNnyAv

— Kiran Bedi (@thekiranbedi) January 26, 2018
Republic Day wishes to all
Jai Hind pic.twitter.com/oDUyrNRtdn

— Mohanlal (@Mohanlal) January 26, 2018
Happy #RepublicDay to all . pic.twitter.com/gT4qqGuzC9

— Salman Khan (@BeingSalmanKhan) January 26, 2018
Wishing everyone a very happy 69th #RepublicDay. Jai Hind 🇮🇳 pic.twitter.com/dYIPld2h0W

— Sachin Tendulkar (@sachin_rt) January 26, 2018
One nation, one vision, one identity, one flag, our incredible India. Vande Mataram #RepublicDay pic.twitter.com/PMb8I7V1gr

— Rohit Sharma (@ImRo45) January 26, 2018
Republic day greetings to every Indian living across the world......#RepublicDay #Republicday2018 pic.twitter.com/n9zzXBTJF9

— Tanya Ravichandran (@Tanya_Offl) January 26, 2018
Let us spread the message of peace & love! Happy #RepublicDay!! pic.twitter.com/BFe58Bo3do

— Nivin Pauly (@NivinOfficial) January 26, 2018
Saluting all those who have made, and are making our nation great every day. Happy #RepublicDay

— Anil Kumble (@anilkumble1074) January 26, 2018
Celebrating the glory of India and the ones who helped shape it! Happy #RepublicDay!
Breathe the music of India with this Republic Day special playlist: https://t.co/NUYpq8D3kL pic.twitter.com/7CaW5XzlRU

— Red Chillies Entertainment (@RedChilliesEnt) January 26, 2018
On this #RepublicDay let's unite & pledge to make our nation stronger and progressive.
Let's come forward & help each other for the upliftment and betterment of our society. Wish you all a very #happyrepublicday2018! #India69 #India🇮🇳 pic.twitter.com/Y07nwuLFTv

— Suresh Raina (@ImRaina) January 26, 2018
To be a part of this ever shining country is a pride to all of us! Celebrate this republic with pride!#RepublicDay pic.twitter.com/yn9xXk8arG

— Sri Thenandal Films (@ThenandalFilms) January 26, 2018
Salute to our Armed Forces for letting us have a #RepublicDay

— Ajay Devgn (@ajaydevgn) January 26, 2018
One Country, One People, One Flag.
Happy #RepublicDay to all.

— Kajol (@KajolAtUN) January 26, 2018
United we stand, divided we fall. Happy #RepublicDay to you all! Jai Hind! 🇮🇳

— Anushka Sharma (@AnushkaSharma) January 26, 2018
I am happy I was privileged to raise the Indian flag on my shoulders not once but twice in my life! #MrAsia & #Mrworld !! Jai Hind!! Happy Republic Day !! #thakuranoopsingh #tas #indian #republicday #NaaPeruSuryaNaaIlluIndia #sainika pic.twitter.com/6jArlyNqCD

— Thakur Anoop Singh (@theindianthakur) January 26, 2018
Happy #RepublicDay To All !!!!

— Robo Shankar (@ActorRoboSankar) January 26, 2018
ஜனநாயகம் மலர்ந்த இந்நன்னாளில் அனைவருக்கும் எனது குடியரசு தின நல்வாழ்த்துகள் 🤘🏻

— Rajinikanth (@superstarrajini) January 26, 2018
வாழ்க நம் குடியரசு

— Kamal Haasan (@ikamalhaasan) January 25, 2018
69th Republic Day Wishes From Celebrities