ads
NEET 2018 Syllabus will be Exactly Same as Earlier
Gokul Saravanan (Author)
Published Date :

Jan 21, 2018 15:36 IST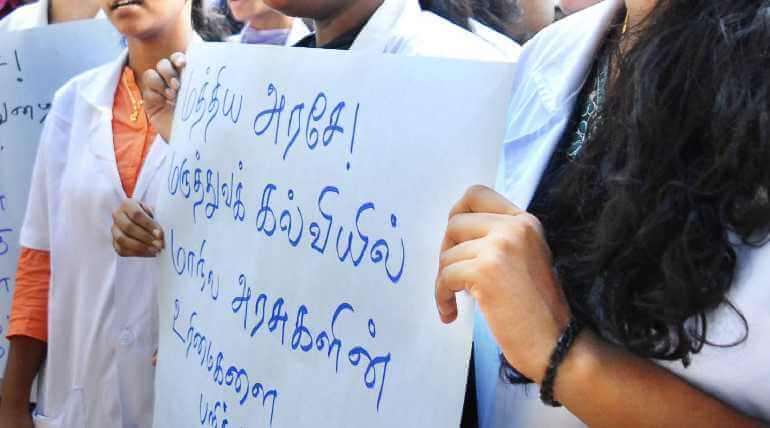 The central board education ministry had announced there will be no changes for the 2018 NEET (UG) syllabus. The NEET organizing committee had given a confirmation notice that only central board syllabus will be considered for the forthcoming NEET (UG) examination in 2018. No state board syllabus has been taken in to consideration because of the goodness of currently practicing students for the upcoming exam.
The central board of secondary education had made the NEET (National Eligibility Examination Test) as a compulsory eligibility exam for the candidates, who are seeking admission in MBBS and BDS. The board had considered only the CBSE education system as the syllabus for the NEET. This decision of the Central education board had made the medical education as an untouchable fruit for the students who studied under state board syllabus.
A state wide protests have been performed out against the syllabus of NEET by the state board qualified students and parents of Tamil Nadu. The central board of NEET organization committee had made a compromise by promising that the state board syllabus will also be taken as consideration while preparing the 2018 NEET exam question papers.
But again the committee decided to prepare the exam question paper under CBSC syllabus for 2018. Last week on Wednesday, Pakash Javadekar, Minister of Human resource and Development had given an interview to a reputed daily news, he said that the exam question papers for the 2018 NEET will be prepared with the consideration of state board education system.
But after his interview the central board of secondary education had dispatched an official notification that, again the NEET syllabus for 2018 will be in similar to the 2017.
While asking the board about the sudden change of its decision, Javadekar said, the decision had been takenas they considered about the students who are already in CBSC syllabus preparation for the examination. Those students will be ruined totally if the board has changed the syllabus before two months of the examination date.
The decision of the educational board had again made the students of state board education to worry about the medical education. Last year, Anitha, a girl from Ariyalur of Tamil Nadu had ended her life as a protest against NEET. She had scored 1176/1200 in the state final examination and could not get seat in the NEET.
NEET 2018 Syllabus will be Exactly Same as Earlier