ads
High Court Banned Mobile Phones Inside Meenakshi Amman Temple
Gokul Saravanan (Author)
Published Date :

Feb 09, 2018 16:00 IST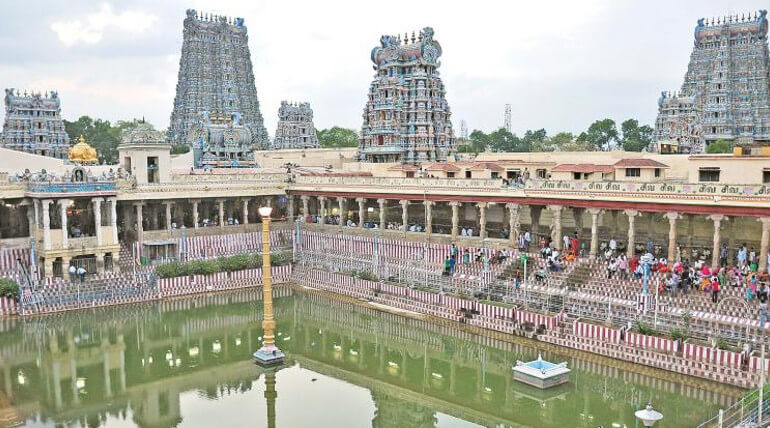 Madurai High Court imposes strict rules for entering the premises of Madurai Meenakchi Amman Temple.
Madurai High Court had ordered no mobile phones should be carried into the Meenakshi Amman Temple premises by the devotees except the officials and security guards.
After a massive fire broke out in the temple premises of Madurai Meenakshi Amman Temple on February 2, 2018. Almost 40 shops inside the premises have been gutted in the fire. A 7000 sq ft mandapam had been collapsed down at the east wing of the temple. The fire brake out had created a strong shocking wave across Tamil Nadu.
According to the incident Madhusudhanan Kalaiselvan, an architect from Madurai and also a heritage conservationist said the mandapam was filled with more than 100 shops which was beyond the limit and the shop keepers drew electric supply from the nearby shop in an illegal way. The heavy load of electricity had caused an unfortunate spark and leads to a massive fire and the stone roof collapsed because lime stone powders were used to affix them up but due to extreme heat the lime charred and weakens the structure.
Later a special team had been set up to investigated the cause and damage of the fire for ensuring the stability of the temple structure. The Special investigation panel had answered that the 1000 pillar Mandapam was safe as it was not affected by the fire. But the fire affected the veera vasantharayar mandapam too badly and the stability of the structures around it were also affected. Soon the repair works will be triggered out and the cost of repair will be compensated with the funds of temple. One of the panel members said the shops in the temple premises would be evicted as they pose the main cause for the fire.
Muthukumar a lawyer form Madurai had filed a petition in the court after the fire break out. the petition says the court need to propose orders for the concern officers. The government to ensure the safety of the temple and to take severe action over the negligence of the officers, who are in the administrative power of the temple.
Now the court had ordered the government, the Hindu Religious and Charitable Endowments Department and the temple administration to make strict rules over the safety of the temple and the devotees. The court also banned the use of mobile phones inside the temple premises. Equip the temple premises with new fire safety equipments. There should be no buildings higher than 9 meters around 1km from the temple. Enough security CCTV cameras should be affixed inside and outside allover the temple, added the court.
High Court Banned Mobile Phones Inside Meenakshi Amman Temple
Related News