ads
Chennai Lockdown Latest Update from Corporation Commissioner Prakash
Vignesh Suppian (Author)
Published Date :

Apr 11, 2020 15:31 IST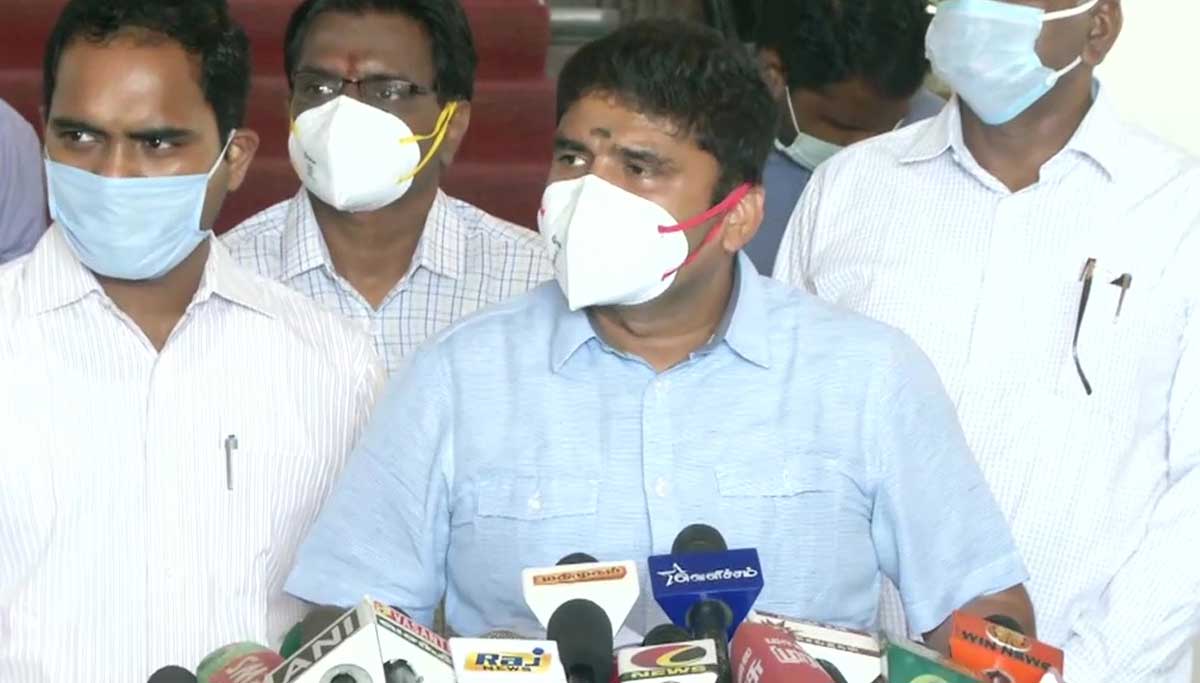 G.Prakash, Chennai Corporation Commissioner, met the Press today, March 11, and spoke about the various measures taken by the corporation to control the coronavirus spread in Chennai. The meeting is as per the High Court orders on reporting the steps taken by the corporation regarding the spread of coronavirus.
The commissioner confirmed forming twenty centers for random tests, which will cover 95 % of the total Chennai area. Already three centers have become functional, and nearly 1,973 people were found with COVID-19 symptoms, and after checking them by registered doctors, 1,312 are now confirmed of not infected by it. The remaining 661 are being followed up. He also said that the 50,000 rapid test kits which the corporation has separately ordered from China are yet to arrive and cannot confirm the exact date for it coming in Chennai.
As of 8 AM today, April 11, Tamil Nadu stands second in the coronavirus infection at 911 cases with eight deaths. It is the most in Chennai at the top of the list, with 149 infections. Hence the Chennai Corporation is working at full swing to contain the coronavirus with more tests across Chennai. Regarding giving details about it and also to confirm the High Court order of dismissal of a PIL against the circulation of newspapers, G.Prakah met the Press today and spoke about many things including
So far, people with symptoms were picked up from their homes in Chennai by ambulances and taken to government hospitals in Kilpauk, Rajiv Gandhi Hospital, or Omandurar or Stanley hospital for checking. All the population of Chennai has not yet started to be checked but only in infection-prone areas checking has started.
From yesterday, April 10 three centers have started to function including one in Pudupet where swab tests are done for patients without being taken to hospitals. Seven more centers are to start working from today for such swab tests in many parts of Chennai.
Ten more such centers to bring the total centers to twenty will start operating within two days for spot-checking of swab tests will soon function in Chennai. Approximately 1300 samples will be collected each day for swab testing from these twenty centers and sent to government labs.
Out of the 76 barricaded zones which were badly affected by coronavirus will be the first places to take such samples. The results of such samples will be critical to deciding on the extent of the spread of the virus. By increasing the sample size and testing of, it will give enough data to know the future course of action.
The family members of all the covid19 infected persons are all tested, and for testing those close to them, the new twenty centers will start to function from these places. Primary health centers are avoided as places for these twenty centers as it will affect the pregnant women in them.
As far as rapid test kits Chennai Corporation has separately ordered 50,000 kits. Being a national issue, cannot say anything on when will the rapid test kits will arrive in Chennai. Only red, blue and yellow passes will be issued on manual application to go out of the city or within the city as per the directions of the Revenue Commissioner Radhakrishnan.
Only for marriages, death and for health reasons only will be given and for nothing else. Free movement of essential goods are happening without any hindrance between districts and even states. As far as 407 Amma Eateries are concerned the sales have shot up from the daily seven lakhs to 12 lakhs, and there is no shortage of any essential commodities and can serve any people.
Even Chappatis in night are now changing to a variety of rice to help more people. No hospital has been sealed due to coronavirus in Chennai, and only the infected health professionals have been quarantined for 28 days if tested positive for it. Any shops selling essential commodities above the normal price will soon be sealed by the authorities.
All newspaper printing press staff are using gloves during printing newspapers and also the newspapers are disinfected before delivery. All the 20,000 newspaper delivery boys should wear mask and gloves from Monday supplied to them by the corporation. In the containment zones, essentail supplies will be delivered at the door step in Chennai.
Chennai Lockdown Latest Update from Corporation Commissioner Prakash