ads
Pune Communal Clash Had Sealed Mumbai Totally
Sangheetha Palaniappan (Author)
Published Date :

Jan 03, 2018 13:28 IST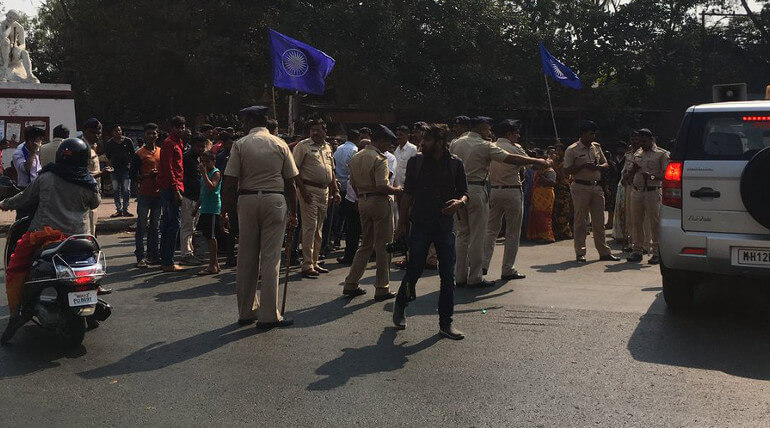 MUMBAI AND AURANGABAD ARE NOW THE TWO WINGS OF PUNE COMMUNAL CLASH.
In 1818 at Bhime Koregeon, the East India Company won the war against Peshwa Baji Rao II with minimum number of soldiers. The EIC infantry includes large troop of Mahar dalits native Mumbai infantry of EIC hence this day was celebrated as a heroic victory of dalits in their history every year. On January 1, communal riot cracked in the Bicentenary of Third Anglo Maratha War celebrated at Bhima Koregeon which is 30 KM from Pune.
More than 10 lakh commemorators are gathered at Bhima Koregeon on January 1, at that time some right wingers opposed that event. Following hot discussions between two groups of same village lead them to fight and quickly it had became a communal riot between them.
The violence become worse after a 28 years old male died while returning from office. The Shikrapur police department stated more than 25 vehicles are set in fire and 50 vehicles are damaged with stone pellets by the right wingers who opposed the gathering. CM Devendhar Fadnavis ordered judicial inquiry and announced 10 lakhs compensation for the victim's family. But these actions had not compromised dalit leaders. Dalit leader Prakash Ambedkar called for bandh at Mumbai today.
Rahul Gandhi had mentioned in his twitter page that the real cause of Pune riot was the fascist vision of BJP. And the riot was the "potent symbol" of resistance against Modi government.
Today in Mumbai, many buses were damaged in the riots happened at Chembur, Mulund and Kurla. Busiest roads went empty, many schools and colleges are shut down. Internal transport and external transport are been severely affected in Mumbai and Aurangabad. More than 154 buses are damaged across the state said the Maharashtra Police Department. Protestors had stopped rail transport by blocking the tracks .Finally a normal day of a city had been sealed by a riot in the name of caste.
Pune Communal Clash Had Sealed Mumbai Totally
&nbsp
Tags :&nbsp
MAHARASTRA VIOLENCE
,
BHIMA KOREGEON
,
rahul gandhi
,
PRAKASH AMBEDKAR
,
PUNE COMMUNAL RIOT
,
MUMBAI BANDH
,
AURANGABAD BUNDH
,
bjp
,
pune riot 2018
,
pune riot jan 2018
,
pune dalit clash 2018
,
pune communal clash 2018
,
pune communal clash jan 2018
,
pune bandh 2018
,
pune bandh