ads
Ockhi Cyclone Moves To Lakshadweep Islands After Battling Kanyakumari
Purushothaman Dhandapani (Author)
Published Date :

Dec 01, 2017 09:29 IST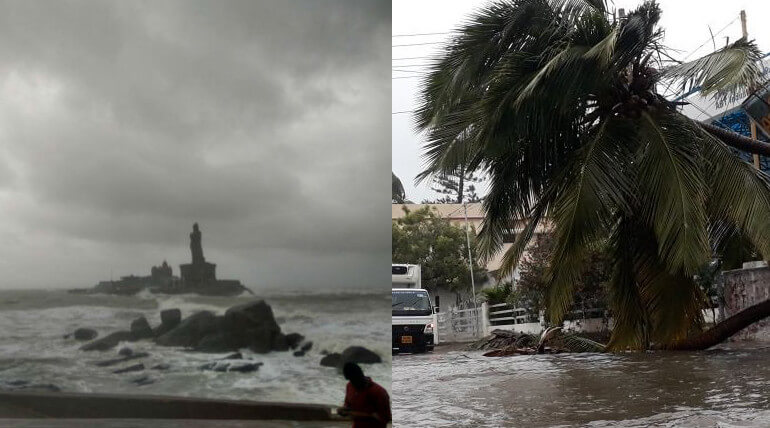 Ockhi cyclone with severe storm is moving at almost 230 km/h speed to North West regions at the Arabian Sea and it is nearing Lakshadweep Islands. Despite expected heavy rains in Kanyakumari and Kerala for next few hours. The most of the southern districts of Tamil Nadu and Kerala are severely affected by this cyclone. Almost 4 died in Tamil Nadu and 17 people are missing. Kerala also witnessed death by the trees fall.
Heavy rains are predicted in Tuticorin, Thirunelveli, Virudhunagar, Thanjavur, Thiruvarur, Nagai and Pudukottai districts in next 12 hours. Fishermen are warning not to get into sea in the districts. Chennai is also witnessing heavy rains from last 24 hours. All schools are remained closed in rain affected areas in the state.
Hundreds of trees are uprooted in Kanyakumari district. NDRF team are deployed in rescue works in the affected regions. National Disaster Management Authorities (NDMA) released the list of Do's and Don'ts before and after the cyclone. They also advised fishermen not to venture out in the sea.
India Meteorological Department and NDMA have issued wind warning for Lakshadweep Islands. There may be gale wind speed at 110-130 kmph reaches around the islands during next 24 hours.
#CycloneOckhi #Cyclone Do's and Don'ts. Plz RT and Share pic.twitter.com/oYqg5fG1nR

— NDMA India (@ndmaindia) November 30, 2017
Ockhi Cyclone Moves To Lakshadweep Islands After Battling Kanyakumari
&nbsp
Tags :&nbsp
Ockhi Cyclone
,
Lakshadeep
,
Kanyakumari
,
Kanyakumari damages due to Ockhi cyclone
,
do and dont before and after cyclone
,
warning for fishermen
,
Tamil Nadu cyclone
,
TN ockhi cyclone
,
kerala ockhi cyclone
,
Ockhi storm
,
NDRF team works
,
ockhi disaster
,
Ockhi Cyclone damages
,
Lakshadweep Islands
,
Ockhi Lakshadweep Islands
,
wind warning at Lakshadweep Islands
Related News