ads
Nirmala Seetharaman filed in the cruises fighter jet of India
Gokul Saravanan (Author)
Published Date :

Jan 18, 2018 20:15 IST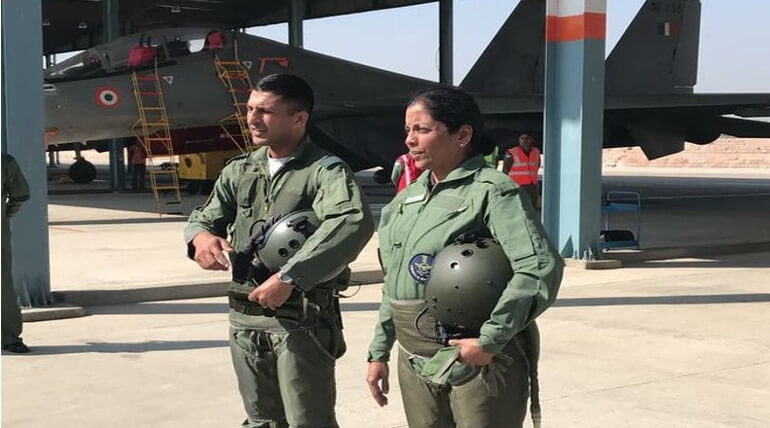 Second women Defense Minister Nirmala Seetharaman Flied in the India's most crucial aircraft.
Nirmala Seetharaman is the second women defense minister of India also the second women defense minister who made into Flanker-H jet. Today morning she strapped her in to a G-suit and became airborne with supersonic Indian fighter jet Sukhoi Su- 30 MKI at Jodhpur Air force base. She floated in air for more than 45 minutes in the rear pilot seat of Flanker-H.
The Sukhoi Su 30 MKI is a frontline fighter jet made by India as version of Russian Sukhoi fighter jet. It is twin finned multi role air superior fighter jet. India's superior missile BrahMos cruise missile was tested with this Flanker-H.
Nirmala Seetharaman is now spending lot of time with the Indian defense forces after she taken the charges of defense ministry. Recently, she was boarded into INS VIKRAMADITHYA aircraft carrier in Arabian sea to witness the operations of Mig-29 and other Navel drills.
A source said about her recent involvements in visiting the defense bases, that she was traveling to every defense bases to understand their operations clearly, to witness their combat capabilities and to make sure everything was going under right track.
Today, fighter plane flight was also a part of her inspection visiting over the Air Force Base. Nirmala Seetharaman also had continues communication with the pilot about the flight. After landing she expressed her first flight feeling. She said that she was feeling proud and thankful for the eye opening and memorable experience and also honored the defense personals for their readiness in every situation.
Nirmala Seetharaman filed in the cruises fighter jet of India