ads
Heart Breaking Video Of Officers Crashing Cart Of Helpless Vegetable Seller
Vignesh Suppian (Author)
Published Date :

Dec 29, 2017 15:07 IST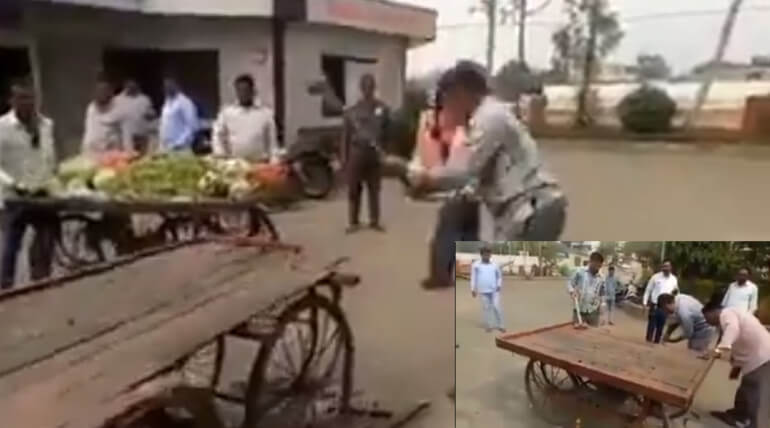 Heart breaking video of some loan givers crashing the cart of vegetable seller is circulating on the net. The helpless vegetable seller is begging those men not to damage his livelihood but those persons are completing crashing his two carts that were bought on loan.
This is an example of how common man or poor men who gets loan from banks or other private financial institute are suffering. The corrupted politicians can escape easily from the cases and big money laundering business man like Vijay Mallya can escape aboard who got debt of about Rs 9000 crores from the bank. Poor people like the one in the video has no other options expect suffering in this country.
People ask can this mercy less officers get back money from big money launderers or can they crash planes of the looter. People share their angry tweets after watching this video.
நாட்டை ஏமாற்றிவிட்டு 9000 கோடி ரூபாயுடன் தப்பியோடிய
கிங் பிஷர் மதுபான வியாபாரி விஜய் மல்லையாவின் விமானங்கள் அரசு அதிகாரிகளால் அடித்து நொறுக்கப்படும் வீடியோ காட்சி. #ஏழைகளுக்கானஅரசு. pic.twitter.com/5yygZU6UmV

— 🌿செல்வி🌾 (@aselviku) December 27, 2017
இந்த நாடு நமக்கு சொல்றது ஒண்ணே ஒண்ணுதான் - பெருசா திருடி , பெருசா தொழில் செய் . எந்த நாயும் உன் ஊர் பக்கம் கூட வரமாட்டான் ! ஏழையாய் இருப்பது உன் சாபம் , எப்ப வேணா இந்த நாடு உன்ன நசுக்கும் !! https://t.co/23QSdA4cKm

— Prashanth Rangaswamy (@itisprashanth) December 29, 2017
அடப்பாவிங்களா ஏழைதள்ளு வண்டிகாரர் கடன்என்றால் வண்டியை உடைப்பீர்கள் மல்லையா வை தப்பவிட்டு வேடிக்கை காட்டி (லலித்மோடி வேறு) கொண்டு இருப்பீர்களா?

— 🔥🌞பா.இ.சுவாதி🌞🔥 (@P_I_Swathi) December 28, 2017
ஏழைகளுக்கு எதிரான சட்டம்
பணக்கார முதலைகளுக்கு ஆதரவான சட்டம்

— கல்லறை காதலன்😳 (@HeroSrinivasan) December 27, 2017
Money is always ultimate ya so Kasu irukavanukku oru law illa thavanukku oru law than namma india la

— ALAGURAJ MANICKAM (@ALAGURAJ150690) December 28, 2017
Heart Breaking Video Of Officers Crashing Cart Of Helpless Vegetable Seller